MG3 gets efficiency boost for 2016
MG announces tweaks to its Suzuki Swift rival, with standard stop-start and new colour choices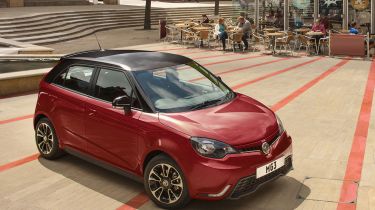 The MG3 supermini has received updates for the 2016 model year, including an engine efficiency boost and extra colour customisation.
The revised supermini, available to order next week, sees stop-start technology added to the existing 1.5-litre petrol engine. The unit continues to produce 105bhp and 137Nm of torque, but now emits 124g/km of CO2 (down from the current car's 136g/km) as a result. The improvement sees the MG3's efficiency brought nearer to that of it's closest rivals, but the CO2 figure is still the same as a BMW 318i saloon.
The Longbridge-built supermini also receives a tweaked chrome front grille design to mark it out. Updated colour schemes with new roof and body combinations are also added to the range.
The range pricing has been tweaked. Entry-level 3Time is unchanged at £8,399, but the 3Form trim now costs £9,599, the 3Form Sport is £9,899, the 3Style is £10,499 and the range-topping 3Style Lux costs £10,999, a £1,000 increase on the current car thanks to the inclusion of leather trim.
Check out our round-up of the most economical cars on sale here...