Watchdog: Car insurance – the 'keys in car' clause
Super exclusions in your insurance policy can see your cover voided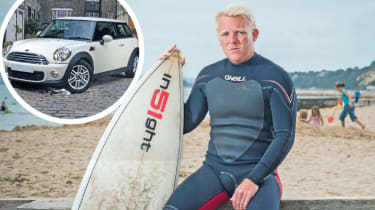 You'd think that having your car stolen is bad enough, but what if your insurance claim is rejected as well? That's exactly what happened to reader Adam Sinclair.
Adam was using his family's MINI to store his clothes, wallet, watch and phone while he went surfing in Bournemouth, Hants. He hid the keys under the rear bumper, rather than risk leaving them somewhere on the beach, but when he returned to the car, he found it had been stolen.
Aviva rejected the claim based on what's known as a 'keys in car' clause, which states the insurer will not pay out for "loss or damage arising from theft while the ignition keys have been left in or on your vehicle".
It also argued the insurance policy was void because the documentation stated the car was kept at a home address in Jersey, when the MINI had been garaged in Bournemouth for a couple of months.
You might think this is a clear-cut case, and that Aviva's reaction is harsh but fair. But the situation is more complex than that.
The 'keys in car' clause is a common but restrictive exclusion. As a result, the Financial Ombudsman says insurers must highlight it when the policy is sold, or ensure it's clearly stated in any summary provided with the full policy – something Tony Sinclair, Adam's father, says was never provided by the broker who sold the policy.
Tony also says he asked the broker if there were any restrictions on where the car could be taken in the UK – and was told there was none.
Tony told us: "The total bill is nearly £17,000. Insurers give in far too easily on personal injury claims. Yet when some low-life toerag has clearly stolen and then torched a car, they fight like fury not to pay out."
We asked the Financial Ombudsman whether it considered Aviva to have acted fairly in this instance. A spokesman said: "It's a very complicated case, and we need to investigate it before we can make a judgement."
The problemThe Sinclairs' MINI was stolen after the keys were hidden under the rear bumper. Aviva refused to pay out, leaving them with a £17,000 bill.
Aviva's responseAviva says its 'keys in car' clause is mentioned in a key features summary sent to all customers, and should have been told the car had moved.
Legal adviceAny 'keys in car' clause needs to be highlighted. The Financial Ombudsman also says it expects a car to be covered when away from its listed location, as with the MINI, unless restrictions are specified.
Our verdictThe Sinclairs have gone to the Financial Ombudsman, so we await the result of its investigation. But exclusions as severe as the 'keys in car' clause should be stressed verbally, as well as in writing.
Do you have a motoring problem that needs investigating? We're here to help… E-mail mail@autoexpress.co.uk or Tweet us @AutoExpress.