Mitsubishi online car dealership launched
The Mitsubishi Buy Online store gives potential customers bespoke purchasing options tailored to their budget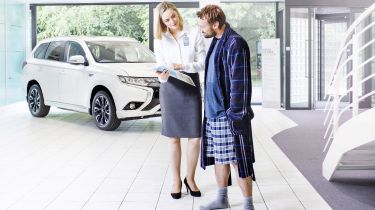 Mitsubishi has launched a new online car purchasing store called 'Mitsubishi Buy Online'.
The website has been developed by the Japanese marque in conjunction with online vehicle retailer Rockar. It enables customers to acquire a Mitsubishi vehicle with their preferred method, be it hire purchase, PCP or an outright purchase.
Customers can then put in their monthly payment if they're signing up for a PCP contract, the deposit, annual mileage and repayment period. The website can then produce tailored results matching the customer's criteria without them having to scan through a number of pages.
Further finance options and delivery times are also available on the website for a customer's preferred car as well as accurate trade-in valuations for customers buying a Mitsubishi outright.
Mitsubishi Buy Online also has a part-exchange feature, which customers can use to trade their old Mitsubishi for a new one at a discounted price. The website also gives potential buyers options to customise their vehicles in terms of colour and interior trim, as well as their preferred delivery method.
The online store also provides the opportunity to begin a purchase online that can later be finalised at a local Mitsubishi dealer if required.
According to automotive industry expert CAP Gemini, 75 per cent of people would consider buying a car online. Manufacturers such as Volkswagen are already shifting resources from traditional car dealers to online services.
Would you buy a new car without visiting a dealership? Let us know in the comments section...