Video: Mitsubishi Evo 6 Tommi Makinen Edition on the Grand Tour 2014
Mitsubishi is celebrating 40 years of selling cars in the UK and to celebrate, it held a 66-car tour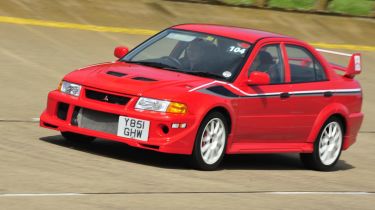 This year, Mitsubishi is celebrating 40 years of selling cars in the UK. To mark the occasion, it held a grand tour of classic Mitsubishis with 66 cars taking part from all over Britain.
One of the starring cars was the Mitsubishi Lancer Evo 6 Tommi Makinen Edition, which was launched in 2000 to commemorate Makinen's four consecutive World Rally Championship titles.
The Tommi Makinen Evo 6 was available in choice of colours, but the most collectable versions have the red paint and decals of Makinen's rally car. A unique front bumper, embossed Recaro seats and distinctive Enkei white alloy wheels also helped set it apart from regular cars.
The Tommi Makinen Evo 6 was powered by a 2.0-litre turbocharged unit, which produced 276bhp, and propelled it from 0-60 in just 4.5 seconds. Its top speed is 150mph.
What else stands out about the Makinen-inspired Evo, is how light it is compared to the most recent Evo X. It weighs only 1365 kg, and this is really noticeable on B-roads.
Despite now being 14 years-old, the Evo 6 Makinen Edition also handles beautifully - the steering especially is just divine. It's really fast and it reacts so sharply to any inputs. The Mitsubishi all-wheel-drive system also gives the driver enough confidence to power though.
The question is, is how much fun can you can get out of this car? It wouldn't be unfair to say things have probably regressed slightly because of just how this car makes you feel.
In fact, as a fun road car, it's tough to say whether there's much better out there.