Tough new Mitsubishi L200 pick-up rumbles in
Mitsubishi reveals fifth-generation L200 pick-up ahead of Geneva Motor Show, set to hit the UK this summer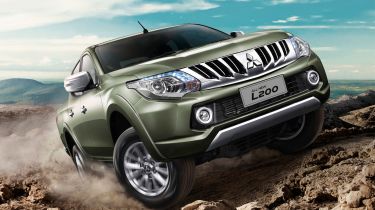 Mitsubishi has released details of its all-new fifth-generation L200 pick-up before its official unveiling at this year's Geneva Motor Show next month. The overhauled pick-up gets classier exterior styling, a brand new engine and a more upmarket cabin. It's due to land at UK dealers this summer.
The L200 has been the firm's most popular commercial vehicle by a huge margin, with 1.3 million units of the nine-year old fourth-gen car produced to date. So the new model is more evolution than revolution on the outside, with a familiar profile upgraded by a classier chrome front grille with LED daytime running lights. The revised look also contributes to a lower drag coefficient than the old car.
An all-new 2.4-litre MIVEC turbodiesel engine replaces the old 2.5-litre unit, and is available in two states of tune; 151bhp and 380Nm of torque, or 178bhp and 420Nm of torque. A variable-geometery turbocharger is said to improve responsiveness, while there's a 17 per cent drop in CO2 emissions, down to 169g/km.
The unit can be mated to a six-speed manual transmission or a paddleshift automatic. Despite the added power and efficiency, Mitsubishi claims the new, low-maintenance unit is designed to carry the L200's global reputation for unburstable toughness and reliability with increased fluid change intervals.
The Japanese firm claims that the ride and handling have been greatly improved thanks to a new suspension design and a quicker steering set-up. Yet the L200 retains a class-leading turning circle of 5.9 metres. Perceived quality takes a step-up in the interior, with new equipment such as keyless start, dual-zone climate control and a DAB radio, as well as an improved driving position.
What do you think of the new L200? Let us know in the comments section below...