"Isn't it time the UK took over as the motor show capital of Europe?"
The huge cost of visiting Geneva is pricing it out of the market, says columnist Mike Rutherford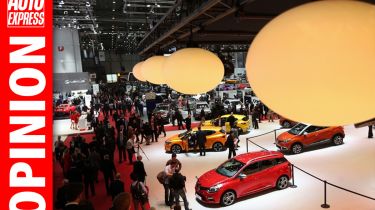 Geneva and I are like old pals who ritually meet up every March. It's a one-sided relationship, though, because I do all the running... and spending.
Over three decades I've devoted weeks to driving almost 40,000 miles to and from the city, which is motor-industry neutral – i.e. it doesn't have one! Then I've spent months in its eateries, working from – and sleeping in – its hotels, queuing on its roads and searching for parking spaces.
• Geneva Motor Show 2015: all the top cars at the show
The total cost of driving to and from, working out of – and parking in – Geneva two to three days a year for the past 30 years is, in today's money, approaching £100,000. Ouch.
Enough is enough. Apart from the city's exorbitant prices and shortage of hotel rooms at show time, it has become prohibitively expensive to drive there. French and Swiss motorway tolls are to blame. They make long-distance motoring economically unviable – thus all those empty tolled motorways across Europe.
The volatility of the Swiss Franc and its iffy value against the pound and euro is another worry. As is the fact that some global car companies exhibiting in Geneva have to house directors, employees and guests in hotels outside Geneva, or even outside Switzerland in France or Italy. It's bonkers.
My annual ritual will live on – I'll continue visiting my mate Geneva at motor show time, but this year I'm changing the rules of the relationship. Over the two to three days that I'll be visiting the show, I'll be doing morning/evening budget airline commutes to and from Gatwick to Geneva Airport (a short walk from the show).
• "I'd choose a cheap old banger over an electric car any day of the week"
The cost of my numerous flights, plus Gatwick parking, totals just over £200 – which is less than one measly night in a drab Geneva hotel room. Assuming one is available, which it probably isn't.
Switzerland and Geneva are too greedy. The show has become a victim of its own success and is in danger of pricing itself out of the market.Unless we see improvements to the infrastructure, accommodation levels and prices surrounding the Geneva Motor Show, I fear it may become a car exhibition that's unfit for purpose. Besides, isn't it time that the UK took over as the motor show capital of Europe?