New Car Awards 2019: the winners
What are the best new cars to buy in the UK today? The 2019 New Car Awards have the answer...
We've just had a momentous 12 months for the automotive industry, one that has presented challenges and opportunities on a historic scale. Once again, despite this background of change and uncertainty, the car manufacturers have raised their game, delivering a remarkable collection of new cars on to the UK market. The Auto Express 2019 New Car Awards honour the very best options that today's car buyers have to choose from today.
The New Car Awards are presented across 30 categories that cover all sectors of the increasingly diverse modern car market. From city cars and superminis through SUVs and estates to electric cars and hybrids, The winners are the best cars to buy in each class according to our team of expert reviewers and from those we've selected the overall 2019 Auto Express Car of the Year.
Click the links below or at the top left of this page to discover our 2019 New Car Awards winners and highly commended models in each category. You can also look back at the previous winners of the New Car Awards on the previous winners tab. 
New Car Awards 2019: winners
New Car Awards 2019: ceremony
The 2019 New Car Awards ceremony was held at the Hilton Bankside in London and we covered the event live on our social media channels. Get a flavour for the event below by clicking on our gallery from the night, and by scrolling through our live Twitter feed.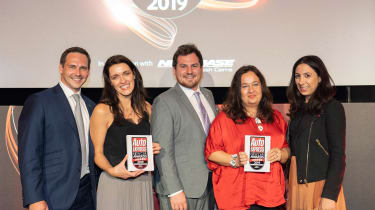 For complete, in-depth coverage of the 2019 New Car Awards, buy your collector's edition copy of the Auto Expres magazine now or click here to subscribe...