Affordable Hybrid Car of the Year 2019: Toyota Corolla
The Toyota Corolla is the 2019 Auto Express Affordable Hybrid Car of the Year, with the Hyundai Ioniq Plug-in and Toyota Prius commended
Toyota has been a pioneer when it comes to hybrid technology. While many more manufacturers are jumping on the bandwagon now in a bid to offer more efficient models, Toyota has continued development of the tech diligently to the point where the brand offers some of the best petrol-electric cars on sale today – and the new Corolla is one of them.
After a hiatus, the Corolla is back in the UK, replacing the firm's Auris model, and to great effect. There's an all-new TNGA platform that underpins this car, with hatchback, Touring Sports estate and even a saloon model on offer. The hybrid choice comes down to a 1.8 or a 2.0-litre petrol engine linked to a battery and electric motor set-up that delivers relaxed performance, superb around-town refinement and low running costs.
The new platform, with sophisticated double wishbone rear suspension, is the root of the car's talent. It handles well, rides with composure and is nicely refined, thanks to a powertrain that's less harsh than in previous hybrids.
The CVT automatic gearbox keeps a lid on revs, helped by a big enough boost from the electric motor. The Corolla isn't rapid, but it's far from slow and makes the kind of easy-going progress you want from a hybrid, while returning decent economy.
You don't have to make allowances for style by choosing a hybrid now, either. It's fair to say that the Toyota Prius, split opinion with its adventurous styling, but the 'safer' Corolla is much less divisive.
Even though we'd still like an improved infotainment system, the Toyota does offer plenty of practicality, with room for five and a decent 361-litre boot (compromised slightly by the location of the car's battery), but the way all of these features interact – especially the two power sources – makes the Corolla a great hybrid and a genuine proposition if you want a family car with some form of electrification, but aren't convinced that a pure-electric car is the way forward.
Our choice
Toyota Corolla 1.8 VVT-I Icon Tech (£24,805)
Because the Corolla gets no smartphone connectivity, we'd opt for Icon Tech trim, which features built-in sat-nav. All models get LED headlights, AEB, a reversing camera, heated seats and dual-zone air-con, so it's well equipped. The 1.8 hybrid offers more than enough performance and plenty of economy, and the hatchback is practical enough.
Commended
Hyundai Ioniq Plug-in Hybrid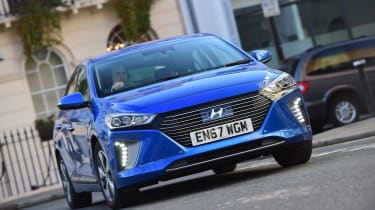 We achieved 71mpg when we tested the Hyundai Ioniq Plug-in Hybrid back in 2017. With plug-in capability giving an all-electric range of nearly 40 miles, there's massive efficiency potential. The solid infotainment set-up is about to be improved, too.
Toyota Prius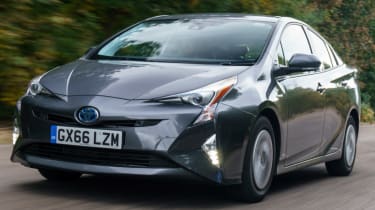 The Toyota Prius is a great hybrid, with similar underpinnings and tech to the Corolla. An updated version is imminent, with a four-wheel-drive option, but we'd stick to the regular front-wheel-drive hybrid for the best balance of economy and cost.
Auto Express New Car Awards 2019
For complete, in-depth coverage of the 2019 New Car Awards, buy your collector's edition copy of the Auto Express magazine now or click here to subscribe...