Drivers who give up cars given council cash to buy bicycles
Expansion of mobility credit scheme in Coventry sees those who stop driving given £1,500 towards a new bicycle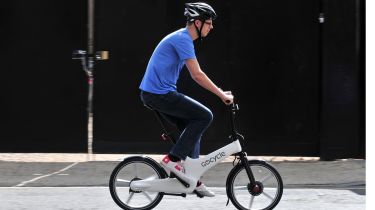 Drivers who give up their cars in exchange for mobility credits under a scheme in Coventry can now get money towards bicycles as well as public transport.
The pilot scheme being run by Coventry City Council and Transport for West Midlands (TfWM) launched last year, with motorists who scrapped their cars given £3,000 of mobility credits to use on public transport services.
Now, participants in the scheme can get money towards bicycles, including e-bikes and cargo bikes. Some are being given as much as £1,500 out of their total £3,000 for this - enough for them to buy entry-level bicycles for their entire family. The remainder of the money can still be spent on public transport.
The scheme is part of a £22million plan by TfWM to investigate how technology can be used to reduce congestion and improve air quality, as well as tackle climate change.
Adam Tranter, cycling and walking commissioner for the West Midlands, told The Independent: "Mobility Credits is an innovative scheme to help people scrap their old polluting vehicles and use cleaner, greener transport instead.
"Since the pilot launched, people have been able to use credits towards public transport, cycle hire, car clubs and taxis. But we need to make not using a car as attractive as possible, which is why we're pleased to now be able to allow people to use their credits to buy bikes.
"We'll scrap your old polluting car, you can get a quality bike you can keep, and still have some credits left over for other journeys by public transport or car club when you need to."
Looking to make a switch to an electric car? Here are the best electric cars on sale now...