UK needs £16.7bn electric car charging investment to hit 2035 goals
The sale of internal combustion engined cars is set to be banned within 15 years, but vast investment is required to make electric motoring feasible.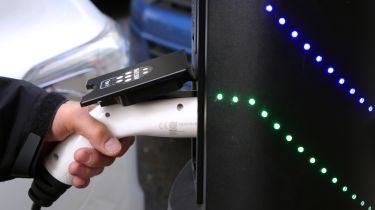 An investment of £16.7bn will be required in public EV charging infrastructure if the UK is to be ready for the ban on sales of cars with an internal combustion engine in 2035, according to fresh analysis.
The research, from the Society of Motor Manufacturers and Traders (SMMT), estimates that 1.7 million public chargers will be needed by 2030, and 2.8 million by 2035, targets that will require the installation of 507 chargers every day over the next 15 years. The findings echo a recent report from the International Council on Clean Transportation that found the UK has as few as five per cent of the chargers that would be needed by 2030 currently installed.
A survey by the SMMT of 2,185 motorists, meanwhile, found that almost half consider that outlawing cars with an engine by 2035 is too early, while concerns surrounding the cost of electric cars, as well as range anxiety and a lack of charging infrastructure, put many buyers off.
The SMMT also highlights that while one in six new models currently on sale is an electric or plug-in hybrid car (PHEV), such vehicles only make up one in 13 new car sales.
• UK charging network: everything you need to know
Mike Hawes, chief executive of the SMMT, said manufacturers have made "massive investment in new models fueling huge consumer interest", but wanted car makers "can't transform the market alone." 
The SMMT also called on the Government to further incentivise EVs exempting them from VAT, while the organisation says PHEVs should be eligible for the plug-in car grant, as they were prior to November 2018.
As well as increasing the number of public chargepoints available, the reliability of the network will also have to be improved if drivers aren't to experience frustration when charging on the move. Given some of the results in our inaugural Driver Power chargepoint survey, it seems significant improvements are required by some firms in this growing industry.
Check-out our verdict on the best electric vans on sale today...