Car industry to build ventilators for NHS in coronavirus crisis
Ford and seven F1 teams have signed up to the Ventilator Challenge UK Consortium, while UK motor industry body also pledges support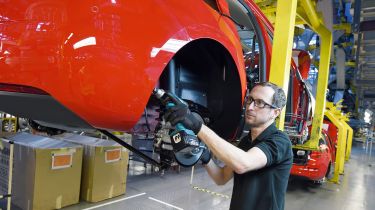 Companies from across the motor industry are to build ventilators for the NHS as part of a British consortium responding to a plea for support from the UK Government.
Seven Formula One teams - Aston Martin Red Bull Racing, BWT Racing Point F1 Team, Haas F1 Team, McLaren F1 Team, Mercedes-AMG Petronas F1 Team, Renault DP World F1 Team and ROKiT Williams Racing - have formed Project Pitlane, pledging to manufacture and deliver respiratory devices to fight COVID-19 in the UK.
Along with the seven F1 teams, the Ford Motor Company has signed up to the new Ventilator Challenge UK Consortium - a group of UK industrial, technology and engineering businesses from across the aerospace, automotive and medical sectors all working towards building ventilators for the NHS.
Dick Elsy, CEO of High Value Manufacturing Catapult - one of the firms involved - and chairman of the consortium, said: "This consortium brings together some of the most innovative companies in the world."
He added: "I am confident this consortium has the skills and tools to make a difference and save lives."
The idea of getting automotive firms involved in the fight against coronavirus has already started to work, with the Medicines and Healthcare products Regulatory Agency already having approved a breathing aid developed by the Mercedes Formula One team, alongside a team from University College London.
Furthermore, the Society of Motor Manufacturers and Traders (SMMT) - which represents the UK motor industry - has pledged further support for the Government and NHS during the COVID-19 crisis.
Mike Hawes, the SMMT's chief executive, said: "The essential and extraordinary work of this consortium will offer a beacon of hope to our NHS and all of society, and is a shining example of how the wider automotive and other manufacturing sectors can help in this time of crisis.
"The entire sector stands ready to help the national effort in every way possible, from production of critical medical equipment, to supporting delivery of essential supplies, maintaining emergency service vehicles and providing transport for key workers to support the most vulnerable in our communities."