Take the Car Configurator Challenge!
Pick and spec your top four new models in the #carconfiguratorchallenge. - we'll show you ours if you show us yours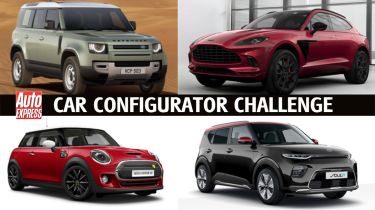 Everybody loves a car configurator, don't they? Especially when we all might have a bit of time on our hands.
Car configurators can provide hours of fun, whether you're buying or just dreaming. And with the latest, hottest new cars all available to spec online, we've been busy creating our ideal four-car garages - money no object!
So why not have a go yourself and share them either on social media tagging @autoexpress on Twitter, @autoexpressmagazine on Instagram or by posting them to our Facebook page. We'll take the best ones and post them online, too. And don't forget to use the hashtag #carconfiguratorchallenge. 
Editor-in-chief Steve Fowler has been first out of the blocks (a first for him!) with his choice of the new Land Rover Defender - in Pangua Green with white steel wheels and matching roof, a deep red Aston Martin DBX, another red (a bit of a recurring theme for the Liverpool fan) on a Mini Electric and a black Kia Soul EV with, you guessed it, a red roof!
So over to you - what's your current new car dream garage. Choose four, download the pictures or screen grab them and post them on your social media channels (tagging us and using the hashtag) or send them to inbox@autoexpress.co.uk.
You never know, that four car garage might just come true one day!
Car configurator links
Below you'll find links to the configurators for some of the most popular car brands. Happy configuring!