"UK motor industry – your country and its people need you"
Mike Rutherford thinks the motor industry can still do more to help provide life-saving medical kit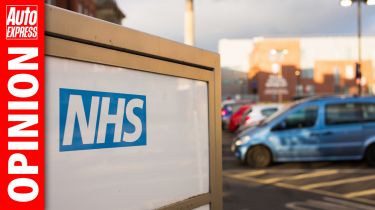 Since the early eighties I've penned thousands of opinion pieces for magazines, national and international newspapers, radio, TV and websites – you name it. I try to ensure each column avoids swear words – and thus far have been 99.9 per cent successful. Also, while I've asked for or demanded much, I've never begged for anything. Until now. So here goes.
I'm f****** pleading with the motor industry to become more actively involved in the design, manufacture and delivery of life-saving medical kit, including ambulance-like vehicles. In another column on another day I'll explain why volume car makers will soon have to rewrite their rulebooks by morphing into the manufacture of personal and public vehicles big and small, expensive and cheap. But before that longer-term upheaval begins, they – and we – need to focus on the urgent short-term need for crucially important life-saving products.
As I write this, other, lower-tech industries seem to be doing their bit. For example, some distilleries and breweries are bulk-producing the liquids that go into sanitiser bottles and alcohol-laced hand rubs. Brilliant. Equally impressive are traditional clothing manufacturers who are designing, making, then instantly shipping proper, protective, head-to-toe workwear, face masks and accessories.
The recipients? Mainly deserving heroes on the frontline in the NHS, supermarkets and other crucially important places where folk bravely go to do their essential jobs. Medical or non-medical, skilled or unskilled, paid or unpaid, bless them. Every last one of 'em!
It's true that a few firms in motorsport and vehicle building have already offered their design, tech and manufacturing skills to deliver ventilators, for example. But while this is to be applauded, many more can and must step up to the plate. With respect, even those who are already lending a helping hand need to raise their game.
For example, what could be a more appropriate future for the soon-to-be-defunct Honda car-producing plant and its blameless workers in Swindon than as a refitted factory with a long-term commitment to produce vital medical and safety kit (plus a few health-related vehicles, perhaps) for Britain and other parts of the world?
And as for the jewel in our crown – Jaguar Land Rover – it knows a thing or two about design and production, world-beating innovation, technical excellence, just-in-time deliveries and more. JLR's decision to donate over 160 vehicles to emergency response organisations as they fight coronavirus is praiseworthy, as is its 3D printing of medical visors. But could the firm do more?
Ventilators would be an obvious product for JLR to make. Same goes for defibrillators – which more homes, vehicles and small businesses should have. Other JLR-produced options include comfortable-yet-rugged wheelchairs and patient trolleys. Also, there's now a role for NHS-spec, high-speed 4x4s as an alternative when there's a shortage of larger, slower, more traditional ambulances – which there too often is. C'mon UK motor industry – your country and its people need you at this time... and way beyond.
Do you agree with Mike? Do you think the motor industry can do more to help the NHS? Let us know below…