Reopen car plants as soon as possible, say European car makers
European automotive industry wants to see car factories reopened, with Governments introducing scrappage schemes to stimulate market.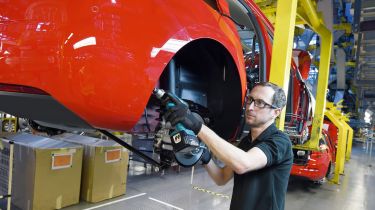 Car plants need to be reopened as soon as possible, while Governments should introduce measures such as scrappage schemes to stimulate the market, European car makers have said.
With the coronavirus keeping countries across Europe in lockdown, the European Automobile Manufacturers' Association (ACEA) - which represents 16 major European car, truck, van and bus manufacturers - has set out a strategy that it thinks offers the best chance of successfully re-launching the continent's automotive industry.
The ACEA says that, as soon as the "immediate crisis" of the coronavirus ceases, both manufacturers and suppliers need to "rapidly and simultaneously" reopen all of their factories. This will enable full-scale production to re-commence as soon as possible.
The organisation has also said Governments should look at introducing "fleet renewal schemes", including measures such as scrappage schemes and electric car grants, in order to boost demand for new cars.
Mark Huitema, director general of ACEA, said: "As Europe looks to reboot its economy, it will be crucial that clean road transport and mobility are affordable for everybody across the continent. Given the fragile economic situation, however, many consumers and professional transport operators will be simply unable to purchase new vehicles."
The ACEA also recommends Governments accelerate type approval and vehicle registration processes to get new cars homologated and on the road as fast as possible.
It also asserts there needs to be further investment in the continent's EV charging network to allow fleet renewal to take place in the most environmentally friendly way it can.
"A top priority is to protect the health of all those who work in the auto sector," Huitema said. "To that end, we need clarity on the relevant health and safety rules in each country for when production re-starts."
He added: "It is in Europe's interest that this key strategic sector not only recovers, but also is revitalised in order to make a strong contribution to the EU's industrial strategy, the European Green Deal, as well as the continent's global innovation leadership."
Various major manufacturers, including Hyundai, Renault, Toyota, Volkswagen and Volvo, plan to reopen some of their European plants in the coming days, while Audi has already reopened its engine plant in Hungary. It is thought that car factories in the UK won't be opening again until at least early May, though.
Do you think that manufactures should be opening up again? Let us know your thoughts in the comments below...