The Ford Focus RS is dead: no flagship hot hatch for Mk4 Focus
Hot versions of the new Focus will be capped at ST level, after Blue Oval confirms next-generation RS project is dead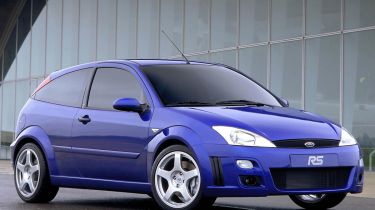 Ford has confirmed that plans for a new Focus RS have been scrapped, meaning that the fourth-generation Focus will top out at the 276bhp ST hatchback and estate for the foreseeable future. 
A company statement reads: "As a result of pan-European emissions standards, increased CO2 taxation and the high cost of developing an RS with some form of electrification for a relatively low volume of vehicles, we are not planning another RS version of the Focus."
The statement hints that Ford could have been some way in the stages of developing a hybrid drivetrain for any potential Mk4 Focus RS - something strongly rumoured as early as the launch of base versions of the fourth-generation car in 2018. 
However, it's unlikely that any hybrid power developments ever reached any prototype or testing phase, and our spy photographers have never caught a glimpse of any Mk4 Focus RS mules.
The Focus RS has been no stranger to variety. The first-generation car relied on turbocharged, 2.0-litre power sending drive to the front axle, before the second-generation model switched to a five-cylinder unit. The previous Focus RS returned to four-cylinder power, but adopted an all-wheel-drive system incorporating a new 'drift mode,' too. However, Ford's statement confirms that hybrid power in the RS - a CO2 reducing move - was not deemed possible. 
The RS badge has been used across all generations of the Escort and Focus hatchbacks in one way or another, but the statement applies specifically to this generation Focus, suggesting that Ford could look to reuse the badge in the future, where it deems it appropriate. 
"We remain committed to Ford Performance vehicles in Europe as part of our DNA with cars like the multi-award winning Focus and Fiesta ST as well as our Mustang and Ranger Raptor models," the statement concludes.
What's your favourite RS-badge Ford? Let us know in the comments below...