UK vehicle ownership passes 40 million mark
There are now more than 40 million vehicles registered for use in the UK, including over 35 million cars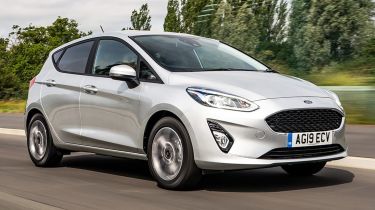 The total number of vehicles registered in the UK surpassed the 40 million mark in 2019, with over 35 million cars and five million commercial vehicles now on the country's roads.
The figure represents a 1.0 per cent increase from 2018, with light commercial vehicles (LCVs) seeing the largest year-on-year rise, increasing in number by 2.7 per cent. There are now 4,527,724 LCVs in the UK, with numbers having gone up 28 per cent in the last decade.
The number of passenger cars registered in the UK increased 0.8 per cent, to 35,168,259, in 2019, according to the latest SMMT (Society of Motor Manufacturers and Traders) data, while the number of heavy goods vehicles rose 0.4 per cent to 607,998.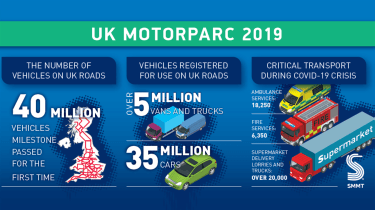 The UK fleet also now has more than 750,000 low emission (e.g. petrol and diesel cars emitting less than 100g/km of CO2), ultra-low emission (sub 75g/km) and zero emission vehicles, including 532,603 hybrids, 144,335 plug-in hybrids and 92,913 all-electric cars.
There are a total of 20,657,838 petrol cars in the UK - up 1.2 per cent year-on-year - while the number of diesel cars fell 0.9 per cent, to 13,723,299.
CO2 emissions from the UK's total fleet have fallen 19.2 per cent since 2008 as a result of clean vehicle technologies, and are now at the lowest level on record - although CO2 emissions have risen in previous years due to falling diesel sales and the increasing weight of vehicles.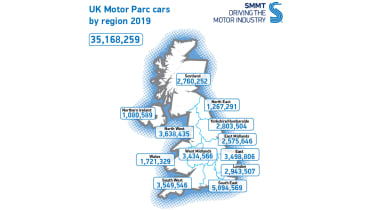 The SMMT's figures also show that the Ford Fiesta is the most common car in the UK, and that black is the most common car colour in the UK, followed by silver and blue. White, meanwhile, is the most popular colour for all-electric and plug-in hybrid cars.
Mike Hawes, chief executive of the SMMT, said the figures "provide evidence that [the] industry's ongoing investment into ever cleaner, safer and more reliable vehicle technology is paying off, even as demand for mobility grows."
He added: "To ensure this trend continues, we must get the right support for businesses and their workers in place now so that when this [coronavirus] crisis is over, the sector can help get the whole country and our economy back on the move."
Do you think there are too many cars on the road in the UK? Let us know your thoughts below...