Consultation launched into automated lane-keeping systems for semi-autonomous cars
Government calls for evidence to find out how cars can safely drive themselves on motorways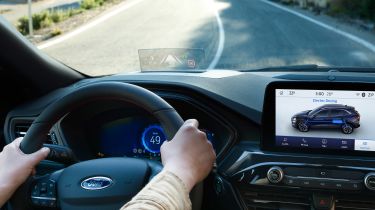 A consultation has been launched into automated lane-keeping systems (ALKS), which would allow cars to effectively drive themselves on motorways in certain conditions.
The Government describes ALKS as a "traffic jam chauffeur" that can control the lateral (left and right) and longitudinal (forward and back) movement of a car for an extended period of time without any driver input.
ALKS differs from existing driver assistance systems such as adaptive cruise control, lane-keep assist or Tesla's well publicised Autopilot system, in that while using it, the driver is allowed to "safely delegate the driving task to the vehicle".
The requirements for the safe operation of ALKS on public roads have been set out in a United Nations Economic Committee for Europe (UNECE) regulation that was adopted on 24 June 2020 and is expected to come into force in early 2021.
The regulation limits the technology's use to cars on motorways at speeds of up to 37mph. Although this means ALKS is initially only intended for use in motorway traffic jams, the UK Government says it recognises some manufacturers may be able to enable the technology at higher speeds than this.
As the UK is no longer a member of the EU, the Government says there are "flexibilities" in what lawmakers can decide is required from new vehicles, so one of the goals of the consultation will be to look into how ALKs could safely be used at speeds of up to 70mph in future without conflicting with the existing UNECE regulations.
Mike Hawes, chief executive of the SMMT (Society of Motor Manufacturers and Traders), commented: "Autonomous vehicle technologies, of which automated lane keeping is the latest, will be life-changing, making our journeys safer and smoother than ever before and helping prevent some 47,000 serious accidents and save 3,900 lives over the next decade.
"This advanced technology is ready for roll out in new models from as early as 2021, so today's announcement is a welcome step in bringing the regulation up to speed so that the UK can be among the first to grasp the benefits of this road safety revolution."
Car safety chiefs say driver assistance systems can create dangerous false impressions...