Lexus CT hatchback, IS saloon and RC coupe all to be axed in the UK
Imports Lexus CT, IS and RC models to Europe will cease, but sales will continue through existing stock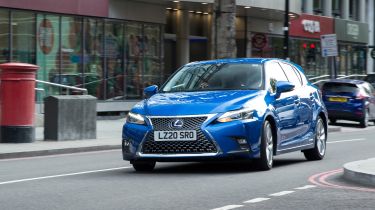 Lexus has confirmed that the CT family hatchback, the IS compact saloon and the RC four-seat coupe will soon be axed in Europe and the UK. 
The Japanese firm has already stopped importing the three models to the UK – meaning the only way to buy new is to pick a car from Lexus's residual stock. A Lexus spokesperson said inventory levels for the CT and IS are expected to last a few weeks, while stock levels for the hybrid RC could stretch to the end of December.
Lexus has also said that it has no direct replacements for any of these models planned for the UK – the firm is confident that its remaining offerings will serve the needs of buyers well. Trendy crossovers such as the UX and NX will fill the void left by the CT, while the larger ES saloon will plug the gap left by the IS.
Lexus revealed its intention to remove the IS from the UK market earlier this year, alongside the launch of the all-new fourth-generation model. At the time, Lexus said the ES was outselling the IS at a ratio of two to one in Britain, which motivated the company's decision to keep the new saloon for the Japanese and American markets only.
Interestingly, while the hybrid RC line-up will disappear from UK showrooms, Lexus will continue to import the flagship V8-powered RC F until the model is either replaced or axed in a year-or-so's time. The 457bhp BMW M4 rival was updated last summer with a few cosmetic and performance tweaks – and it still enjoys sales success in the UK.
What do you make of Lexus's decision to axe the CT, IS and hybrid RC? Let us know in the comments section below…