MINI Countryman production set to move to Germany in 2023
Next-generation MINI Countryman will be built at BMW's plant in Leipzig – and it'll be available with a pure-electric drivetrain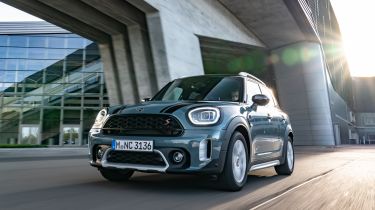 MINI has confirmed that the third-generation Countryman will make its debut in 2023. When it arrives, it'll be available with a choice of petrol, diesel and pure-electric powertrains, which will allow it to compete with the likes of the Kia Niro and Hyundai Kona.
However, to support the crossover's shift to electric drive, BMW will move production of the Countryman to its production facility in Leipzig, Germany. The brand recently finalised a €300 million (£270 million) investment in the plant to upgrade its assembly lines and paint shops, as well as provide the logistical platform for BMW's latest electric powertrains.
BMW is also planning a further €100 million (£89 million) 10,000 square-metre add-on for the Leipzig facility, which could open as soon as 2021. The facility will be highly automated, piecing together model-specific battery packs for both BMW and MINI's upcoming electric vehicles, before they're shipped off to the production line and bolted into the body shells on site.
BMW's Leipzig plant opened in 2005 and has undergone a series of upgrades over the past 15 years. Currently, the facility acts as the pilot plant for BMW's new front-wheel-drive architecture and has a production capacity of around 350,000 units per year, managing assembly of the 2 Series Active Tourer and the 1 Series hatchback.
Hans-Peter Kemser, boss of BMW's Leipzig plant said: "Over the last few years, we have worked continuously to lead our plant into a successful future. This contract to produce the successor to the MINI Countryman gives us another major milestone to work towards."
Now check out our list of the best pure-electric cars currently on sale…