Pure-electric and autonomous NIO ET7 saloon unveiled
New electric NIO ET7 saloon has a claimed range of more than 620 miles – and it could soon make it to the European marketplace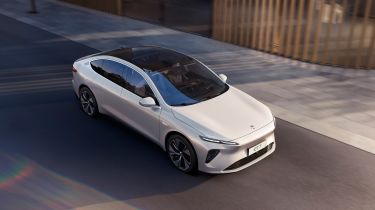 This is the new NIO ET7. It's a pure-electric, autonomously capable saloon from the same manufacturer that brought us the EP9 hypercar – and it positioned in its domestic Chinese market as a home-grown alternative to the BMW 7 Series and Mercedes S-Class.
It's available to pre-order in China now, with prices starting from ¥448,000 (around £51,000) for the entry-level model and climbing to ¥526,000 (roughly £60,000) for the flagship variant. The first examples are expected to reach Chinese buyers in early 2022.
Like the recent EC6 SUV, NIO also has plans to expand the ET7's market out West. An official European launch date for the saloon is yet to be confirmed, but it sounds inevitable, as NIO has designed the EV to meet both Chinese and Euro NCAP safety regulations.
NIO's claims about the ET7's performance appear impressive. Its powertrain comprises an electric motor on each axle for a combined output of 644bhp and 850Nm of torque – more than a Lamborghini Huracan Performante. This is enough for a claimed 0–62mph time of 3.9 seconds.
Buyers will have their choice of three battery sizes – 70kWh, 100kWh and 150khW, which provide maximum range figures of 310, 435 and 620 miles respectively. However, it's worth noting that all of these figures were homologated under outmoded NEDC regulations, so will likely decrease when assessed by the more realistic WLTP system.
The ET7's chassis is made from high-strength steel and aluminium. It's propped up by an air suspension system which uses an array of sensors to detect the road conditions and actively adjust the suspension accordingly. NIO also says the ET7's brakes can bring the saloon to a halt from 62mph in just 33.5 metres – or less than seven times its own length.
NIO also plans to introduce a fully autonomous driving mode for the ET7 during its lifetime, although the autonomous capability of launch edition cars is yet to be confirmed. The firm's hardware claims include 11 external cameras, a long-range LiDAR system, 12 ultrasonic sensors and a bank of processors that can sift through 8GB of data per second.
The ET7's styling shares plenty of similarities with the EC6 SUV, with a pair of slim LED headlights, triangular intakes and sloping rear roofline. However, the crossover's U-shaped tail lights have been shunned in favour of a full-width light bar. The saloon's smooth bodywork also produces a claimed drag coefficient of just 0.23Cd.
Inside, the ET7 features NIO's latest digital instrument cluster and 12.8-inch AMOLED infotainment system. Massaging and ventilated seats will also come as standard, along with a 1,000W, 23-speaker stereo system and renewable seat upholstery made from rattan. The latest version of NOMI, NIO's own in-car AI system, will also be available.
What do you make of the new NIO ET7 saloon? Let us know in the comments section below…