2020 Mercedes S-Class on sale now
Flagship Mercedes S-Class saloon on the UK market – and it's more tech-laden than ever
The seventh-generation Mercedes S-Class is available to order now, with prices starting from £78,705. The all-new model is Mercedes's answer to the new Audi A8, the updated BMW 7 Series and the upmarket Bentley Flying Spur. 
Mercedes makes a simple but bold claim about the latest S-Class, stating that it is "the best car in the world." And if that refers to the technology on offer, it might have a point. 
Standard equipment for the entry-level Mercedes S-Class AMG Line model includes 19-inch alloy wheels, soft-close doors and keyless entry. Inside, buyers get heated front and rear seats, Nappa leather upholstery and a wireless smartphone charger – along with a 12.3-inch digital instrument binnacle and a 12.8-inch infotainment system.
AMG Line Premium models are priced from £85,200 and add 20-inch multi-spoke alloy wheels, a panoramic sliding sunroof and a remote parking package with a 360-degree camera. There's a few upgrades inside, too, such as a premium Burmester surround sound system and an active ambient lighting package.
Long wheelbase models gain cushioned head restraints and a pair of electrically adjustable rear seats with a memory function. The outer two seats on the rear bench are both heated and air conditioned.
Mercedes's AMG Line Premium Plus is priced from £95,695. Upgrades over the Premium model include 21-inch alloy wheels, an augmented reality head-up display and Mercedes's digital LED headlights with extended range high-beam. The Premium Plus variant is also only available as a long wheelbase body style.
There's a suite of extra equipment for the cabin, too. Buyers get a heated centre armrest, heated door armrests and active multi-contour headrests. The steering wheel and windscreen both get heating elements, while the front seats gain an air conditioning function.
For an extra £3,795, buyers can spec Mercedes's range-topping Executive package on either the Premium or Premium Plus long wheelbase models. Additional features include electric sun blinds for the rear windows, double sun visors and an extendable footrest mounted to the rear of the front passenger seat. There's also a seven-inch MBUX touchscreen for rear seat passengers, which can be removed and used as a conventional Android tablet.
New 2020 Mercedes S-Class: engines and autonomous driving
Mercedes aims to take a step forward with semi-autonomous driving technology with the new S-Class, introducing Level 3 capability for the first time. The company says that from the second half of 2021, the new S-Class will be capable of "hands-off" autonomous driving on motorways and in traffic jams. 
The driver will be able to check emails or browse the web, and the vehicle – in certain conditions – will be capable of responding to all traffic and any potential collisions. Remote parking assist also means the car can park itself or be summoned from a short distance via smartphone.
A pair of chassis systems lacking on its predecessor now feature. A new rear wheel steering system reduces the turning circle of the S-Class to that of a family hatchback, according to Mercedes, while the optional E-Body Active Control suspension can raise one side of the car by up to 80mm before a side-on collision, reducing the impact. Airmatic air suspension with continually adjustable damping is standard equipment.
As for engines, Mercedes has confirmed a launch line-up consisting entirely of 3.0-litre turbocharged straight-six options, with two 48-volt assisted petrols and three diesels to choose from. All cars use the same nine-speed automatic gearbox and are electronically limited to a top speed of 155mph. 
Partnership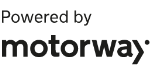 Need to sell your car?
Find your best offer from over 5,000+ dealers. It's that easy.
Petrol power kicks off with the S 450 4MATIC with all-wheel drive. It develops 362bhp and 500Nm torque, propelling the S-Class from 0–62mph in 5.1 seconds – although UK prices for this powertrain are yet to be confirmed. However, the S 500 4MATIC is available to order now, with a starting price of £89,105. The engine upps the S-Class's power output to 429bhp and drops the 0–62mph time to 4.9 seconds.
The popular S 350 d returns with or without a 4MATIC all-wheel drive, developing 282bhp and 600Nm torque. Mercedes claims that rear-wheel drive versions cover 0–62mph in 6.4 seconds, with the 4MATIC system reducing it to 6.2 seconds. Fuel economy of up to 44.1mpg is claimed for the S 350 d. Above these two options is the £94,135 S 400 d, which  has an output of 325bhp and 700Nm torque and a 5.4 second 0–62mph time. 
Elsewhere, the brand has confirmed that V8 power will come to the S-Class in 2021 with 48-volt mild hybrid assistance, and a petrol plug-in hybrid version capable of up to 62 miles on electric power only is also in development. A diesel plug-in – as is available in the E-Class – seems off the cards though, with R&D boss Schafer explaining that such a model is not relevant in the S-Class's huge Chinese and American markets. A high-performance AMG version is also planned, but no details have been confirmed.
New 2020 Mercedes S-Class: design and platform
The new S-Class is the first Mercedes to be based on a new generation of the firm's MRA platform for saloon cars. It means that alongside the model's traditional fastidious approach to luxury and comfort, this new car is an important milestone for the company - it comes with a technological revolution inside the cabin, that will set the tone for the next-generation versions of the C-Class and E-Class. 
Mercedes has confirmed two versions for the European market – standard wheelbase and a long wheelbase. The standard car sizes up at 5,179mm long, meaning it has grown by around 54mm. Step up to the long wheelbase model, and the car measures 5,289mm nose to tail. In both cases, the benefits of the growth spurt are found in the back, with both cars fielding more legroom and headroom than before, as well as bigger boots, both up by 20 litres to 550 litres.
Mercedes says the new S-Class is the most opulent expression of the brand's latest saloon design language; the grille is larger and more upright than before, and is now flanked by new Multibeam LED headlights, which are now available with projector beams as part of the new Digital Light system. The setup can project shapes and symbols onto the road ahead, warning the driver of hazards such as roadworks, traffic lights, pedestrians, and capable of projecting lane guidelines too.
This time round there will be no Coupe or Cabriolet versions, with the S-Class to be kept strictly in limousine form factor. Alongside the standard and long-wheelbase versions of the car, an extended wheelbase Maybach badged variant will appear later, described by R&D boss Markus Schafer as "very differentiated" and a big step forward for the brand's Maybach models.
New 2020 Mercedes S-Class: interior and technology
The most radical design changes are reserved for the cabin, where the S-Class features an all-new interior architecture centred around a new, second-generation MBUX infotainment system. 
It's impossible to ignore the new central display, using smartphone quality OLED screen technology and haptic feedback. It's 12.8-inches in size and portrait in orientation, flowing directly into the new-look centre console and sitting on top of a dashboard with a new, flat plane surface running from one side of the car to the other. It comes with a new user interface and is compatible with over-the-air update functionality. 
A new digital instrument panel with real 3D-effect graphics sits in front of the driver, alongside a new-look steering wheel with touch-sensitive functions. Behind it all is a new head-up display capable of augmented reality technology. This means warning symbols and prompts, such as directions from the navigation, can appear as if they are being projected in 3D directly onto the street. A standard HUD without this technology is available. Altogether, the new screen-based tech means Mercedes has removed 27 buttons from the previous model's dashboard. 
Mercedes's Energizing programme is also fitted as standard to Premium Plus models. This adds an array of sensors to automatically control the interior atmosphere, changing the ambient lighting, air temperature, audio level and massage feedback depending on the profile selected. A new mode even teams up with the massage function and a 30-speaker audio setup from Burmeister to create "4D" sound, with additional vibration in the seat for low bass tones. There are six Energizing programmes for occupants to choose from.
MBUX Interior Assistant is a new feature, too. It uses cameras in the car's overhead panel to interpret the head, hand and body movements of those on board and automatically enable corresponding vehicle functions and provide contextual prompts. For example, if the driver reaches over to the passenger seat to grab something at night, the light above the passenger seat will automatically switch on. Looking at a side mirror also allows it to be adjusted without the need to operate a physical switch. If an occupant attempts to exit the car as another vehicle approaches, the ambient lighting will pulse red as a warning.
Mercedes S-Class: ride review
Our brief encounter with the S-Class from the passenger seat reveals that Mercedes' flagship pushes boundaries once again.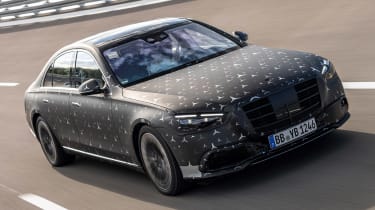 Chief engineer Jürgen Weissinger is sitting at the wheel of his final project before retirement. In the past, he's been responsible for Merc's Maybach limousines, but the new S-Class is his farewell present.
He starts by demonstrating the new rear-axle steering, hauling the limo around in near-impossible fashion and heading off down the road. The S-Class is eerily quiet – Merc has even gone as far as finding a new vulcanisation process for the rubber window seals in search of perfection.
Our ride is short, but we can sense the craftsmanship that has gone into the car. The interior tech dazzles; the seats feature 17 motors for adjustment and massage, while the MBUX infotainment sets new standards. As for the plug-in hybrid? Weissinger claims he's managed more than 73 miles on battery power alone.
Now read our in-depth review of the current Mercedes S-Class here…