Scottish car buyers can enter showrooms under appointment system
Scottish Government confirms dealers can allow customers into their showrooms to conclude the purchasing of a vehicle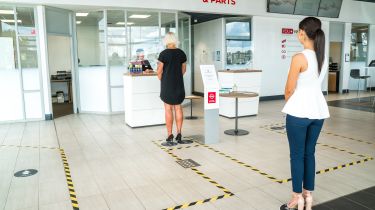 Car buyers in Scotland can enter showrooms to conclude the process of purchasing a vehicle as long as they have an appointment, the Scottish Government has confirmed.
Jamie Hepburn MSP, Scottish minister for business, Fair Work and Skills, has written to the National Franchised Dealers Association (NFDA) to confirm that "accessing the showroom to conclude the purchasing of the vehicle would be permissible at this time using an appointment system".
Hepburn added, however, that "as much of the purchase as possible should be completed online or by phone" and that it is "not permissible" for potential customers to come into the showroom to browse.
The letter also said that the idea of allowing unaccompanied test drives as part of the purchasing process had "merit" and that the Scottish Government would "give this proposition serious consideration".
The news comes after the UK Government announced a lockdown exit strategy for England, including a roadmap that will see car dealerships remain closed until at least 12 April, along with other non-essential retailers.
Both the NFDA and the SMMT (Society of Motor Manufacturers and Traders) have argued that it is safe for car dealerships to reopen now with appointment systems and social distancing in place.
Commenting on the Scottish Government's decision, NFDA chief executive Sue Robinson said: "Following our requests, it is extremely positive that the Scottish Government has confirmed that amendments to the current operation of click and collect for dealerships in Scotland mean that accessing the showroom to conclude the purchasing of the vehicle would be permissible using an appointment system."
Robinson described the UK Government's decision to keep car showrooms in England closed until 12 April at the earliest as "very disappointing". She added: "Dealerships have large areas, they generally have a lot of outdoor space on the forecourt and today there are very few vehicles in showrooms as these spaces are already adapted to be Covid-secure; social distancing is easy to maintain.
"Dealerships can operate effectively by appointment and take all necessary steps such as measuring customers' temperature when they enter the premises, wearing masks, working behind protective screens, as well as sanitising cars and keys."
Check out the latest on coronavirus' impact on the automotive industry here...