Hyundai launches new one-card EV charging service
New Charge myHyundai service gives electric Hyundai drivers access to around 15,000 UK charging stations with one account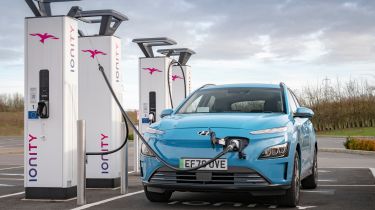 Hyundai has launched a new charging service called Charge myHyundai. The scheme is designed to make on-the-go electric car charging easier for Hyundai EV owners, by making the charge points from several providers accessible with just one card and account. 
The new charging service is accessed using a contactless card or a smartphone application. The electricity consumed during each charging session is logged by the system and billed to the driver monthly. 
Hyundai says its new charging service could make EV ownership easier as it removes the need to manage a separate account and payment plan for each individual charging service provider. 
Several big-name UK companies have already partnered with the scheme, including BP Pulse, IONITY, Pod Point and Source London, and Hyundai says Charge myHyundai account owners will be able to access 15,000 UK charging stations through the service. 
The Charge myHyundai application also allows drivers to search for nearby charging stations, based on their preferred provider, charging method or electricity cost. The app can also be paired with Hyundai's Bluelink connected technology, allowing owners to remotely check the status of their car's battery or schedule charging times.
Hyundai is yet to confirm the tariffs for its new charging service, but Auto Express understands that the scheme will be identical to Kia's recently launched KiaCharge service. As such, it will likely be separated into two plans.
Like Kia's service, Hyundai's basic plan will likely require a £1.99 sign-up fee to receive the contactless card. There won't be a monthly subscription cost, but drivers will pay for the 49p session fee required to activate most UK charging stations. Drivers then pay per kWh of electricity used.
Hyundai is likely to mirror Kia's Plus plan too, which waives sign-up fee, but charges customers £2.99 per month for the service. The plan is aimed at drivers who regularly charge their vehicles at public charging points – and, as an added benefit, some providers offer a 15 percent discount per kWh as part of the scheme.
BP Pulse and IONITY aren't included in Kia's scheme, but customers will be able to have both companies added to their account for an additional fee. BP Pulse costs an extra £7.85 per month and gives users a 40 percent discount compared with the standard charging rate. IONITY is yet to confirm how much their bolt-on service will cost.
Now read all the latest news on the Hyundai Ioniq 5. Let us know your thoughts in the comments section below…