Plans for 1,500 new electric car chargers in four years at new Osprey Charging hubs
The £75m scheme will see high-powered chargers rolled out at 150 Osprey Charging locations near A-roads and motorways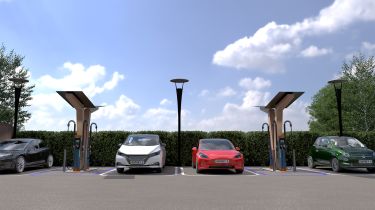 A major boost to the UK's electric vehicle infrastructure has been announced by Osprey Charging, which plans to roll-out a brand new network of charging hubs in key locations across the country.
150 new rapid charging hubs with up to 12 chargers at each site means there'll be a total of 1,500 new places for drivers to plug in. The chargers will have a max power of 150-175kWh, so electric car drivers will be able to add 100 miles of extra range to their batteries in as little as 10 minutes, the company says.
The hubs will also be located near places to shop and snack, with the first four sites already under construction near retailers such as Costa, Lidl, Adli, KFC and PC World. The first is due to open next month in Wolverhampton, and ten are slated to open this year alone. All 150 hubs will be open by 2025.
Osprey says its new Kempower charging tech is key to the rollout, as it allows more EVs to connect on a single site without compromising on charge power or requiring expensive grid connections. "The technology has the potential to revolutionise EV charging deployment in the UK by intelligently load balancing to maximise the amount of charge that each vehicle receives," it claims. That means all vehicles hooked up to the hub will be able to charge at their maximum rate, without affecting other cars.
"All Osprey chargers are compatible with every rapid charging EV on the market today and do not require a membership or subscription to initiate charging – drivers can simply tap their contactless bank card or smart phone," the company says.