Electric overtakes petrol as next fuel choice for car buyers
More car buyers say they're considering an electric car rather than petrol for their next vehicle, according to a survey by Autovia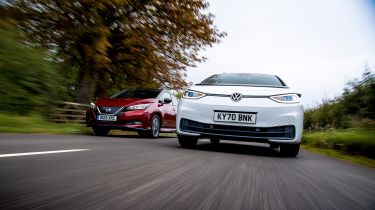 Autovia, parent company of Auto Express, has found evidence that public mass adoption of electric vehicles is on the horizon. The firm is currently conducting a survey, which shows that more car buyers are considering an electric vehicle for their next purchase than a petrol one.
As of November 2021, 33.9 per cent of those surveyed said they're considering buying an EV next. By comparison, 25.4 per cent of participants said they're shopping for a petrol car, and around 10 per cent said they're considering a diesel model.
Other propulsion types, such as the various types of hybrids, have so far garnered a following of between 7.5 and 15 per cent of participants – or, less than half of those interested in an electric car.
The survey also tracks buying attitudes over time. The results show that electric power overtook petrol power as the favoured fuel choice amongst consumers in September 2021, and that it's only gathered strength since, with around 10 per cent of consumers moving away from combustion power in the space of three months.
This acceptance of electric vehicles can be attributed to a number of factors, such as the expanded ULEZ charge, political events including the recent COP26 summit, and the simple fact that manufacturers are making more electric vehicles, with plans for even more models being rolled out on almost a weekly basis.
Steve Fowler, Autovia's Editor-in-Chief, said: "Autovia's car customer insights are especially valuable in gauging future intentions because they reflect real plans rather than the more typical on-the-spot opinions captured in occasional surveys.
"When an in-market car buyer volunteers their future buying plans to us they're effectively asking us to help them to find their ideal future car. With EVs now stretching their lead as the most popular future choice among our highly engaged audiences it's clear a turning point has been reached."
Are you considering making the switch to electric power? Let us know in the comments section below…