Hennessey maps out new six-wheel drive electric hypercar
It's been given the working title "Project Deep Space," and Hennessey says it'll be the world's most expensive electric vehicle at $3 million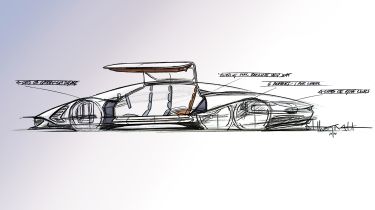 Hennessey has released early plans for its new electric hypercar: a six-wheel drive, 2,000bhp, four-seat gran tourer codenamed Project Deep Space. 
When it goes on sale in 2026, it'll be the world's most expensive electric vehicle, with a price-tag of $3 million (£2.2 million). Production will be limited to just 105 examples.
We've only got a couple of sketches to go off for the time being, but Hennessey assures us that the Project Deep Space will be "devastatingly fast". The company also says that the car's unusual dual axle rear end will provide tonnes of grip, as the extra two wheels provide a 50 percent increase in surface contact compared to a traditional four-wheeled supercar.
John Hennessey, the American company's CEO and founder, said: "Hennessey has spent more than 30 years building some of the fastest and most exciting vehicles in the world. This mantra will continue for our next 30 years by introducing the world's first fully electrified, six-wheel-drive hyper-GT. 
He continued, offering a glimpse at the hyper GT's performance capability, saying: "We believe that 'Deep Space,' with six electric motors combined with six driven wheels, could be the world's quickest accelerating four-seater from zero to 200 mph!"
To compensate for the extra weight brought on by the six electric motors, (and, no doubt, an enormous battery pack to power them all), the Deep Space's body and chassis will be made entirely from carbon fibre. It's a 100 percent clean-sheet design, too – nothing will be carried over from the brand's previous hypercar, the 1,817bhp petrol-powered Venom F5.
The Deep Space won't just excel at the drag strip, however  – Hennesey claims it's being designed as an everyday workhorse. It says the car will have enough luggage space to carry four sets of golf clubs, and enough space inside to seat four adults, although they'll be positioned in an unusual diamond-shaped pattern.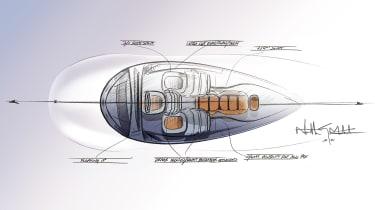 The driver sits in the middle of the cabin, like a McLaren F1, with a passenger seat sitting either side of their shoulders. At the rear, there's a fourth chair, which Hennessey says will be the world's first VVIP (that's Very Very Important Person) automotive seat. Basically, it'll be a lie-flat seat, like you'd find in a private jet.
The final version of Deep Space will be built at Hennessey's production centre in Sealy, Texas – and the firm has enlisted the help of big-name companies for the project. It has already partnered with the likes of Shell, Pennzoil and Delta Cosworth to develop the car's electric powertrain.
Project Deep Space forms part of Hennessey's new product plan that will see the company launch three new vehicles over the next 10 years. Details of the other two models are yet to be released, but we expect they'll be confirmed in the next couple of years.
Now click here to read our run-down of the world's fastest road cars…