Ford Bronco gets Hennessey VelociRaptor 500 makeover
500bhp VelociRaptor package comes to the Ford Bronco for "ultimate all-powerful off-road SUV"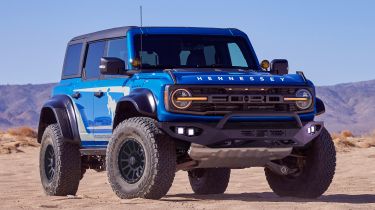 American firm Hennessey has shown it is still very much in the tuning business despite dabbling in car production, by unveiling its latest creation - the VelociRaptor 500 Bronco. It takes the already rowdy 400 Bronco and bumps up the power.
Last year, Hennessey revealed the VelociRaptor 400 Bronco with 395bhp, but the VelociRaptor 500 goes even further with 493bhp. The cost of the extra power over the standard Ford Bronco results in a price tag of $32,950 (roughly £28,918) - not including the Bronco you'll need in the first place. 
To achieve the extra grunt, Hennessey fits a new air induction system, a high-capacity intercooler with blow-off valve and an upgraded engine-management system to cater to the performance of its twin-turbocharged 3.0-litre V6. A revised exhaust system is added, so the VelociRaptor 500 should have the noise to back up its looks.
It's not only power that's increased, but torque too with 746Nm available - 64Nm more than the 400 model. Although Hennessey hasn't given performance figures just yet, expect the new VelociRaptor to comfortably beat the lower-powered car's 0-60mph time of 4.9 seconds.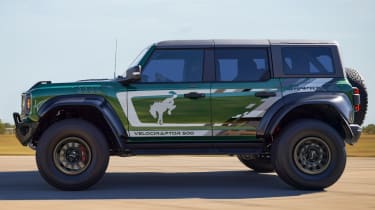 The exterior of the VelociRaptor 500 has also been looked at. Custom VelociRaptor bumpers, bespoke Hennessey 10-spoke wheels, graphics and Bronco badging are added. On the inside, there's Hennessey's logo embroidered on the head restraints and a unique plaque.
There is some sensibility on offer, however, as the VelociRaptor 500 comes with the usual  three-year/36,000-mile warranty available on Hennessey's cars.
The standard Ford Bronco is coming to Europe, read more about it here...