New Toyota bZ4X GR Sport Concept unveiled at Tokyo Auto Salon
Toyota has dressed the bZ4X EV in its racy GR Sport trim – and we expect this concept will soon morph into a production model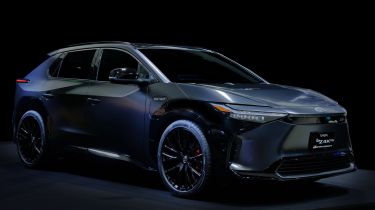 Toyota launched a new version of the pure-electric bZ4X SUV at this year's Tokyo Auto Salon, decorated with its GR Sport specification. It's still a concept for the time being – but, given the popularity of the trim, we expect it'll soon morph into a production model.
Toyota hasn't yet issued any technical details for the bZ4X GR Sport Concept but, like the Yaris GR Sport and Corolla GR Sport, we expect the changes will be limited to what you can see – there probably won't be a bump in power over the standard SUV.
So, the concept gets a sporty bodykit, larger alloy wheels, matte black paint and a set of sports seats. The car also seems to sit a little lower than the standard bZ4X, which means Toyota could have made a few suspension changes. 
The Yaris GR Sport got reprofiled dampers, extra chassis bracing and a new electric power steering system to make it feel a little more focused to drive – all of which are possibilities for this new GR Sport version of the bZ4X.
Toyota offers a choice of two powertrains with its electric SUV, both of which are fed by the same 71.4kWh battery pack. The entry-level model has a 201bhp electric motor mounted on the front axle, offering a 0–62mph time of 8.4 seconds and a maximum range of 280 miles.
Above that, there's a dual-motor, four-wheel-drive system, which adds an extra motor on the rear axle to bump up the EV's output to 215bhp and 336Nm of torque. The extra grunt trims the car's 0–62mph time down to 7.7 seconds, while the additional motor also brings a range of off-road-biased chassis settings, specifically for driving on snow or mud.
As the bZ4X GR Sport is still in its concept phase, Toyota has yet to communicate any pricing information. When it arrives, though, we expect it'll occupy the top spot in the SUV's line-up, pushing the EV's price even closer to the £50,000 mark when equipped with Toyota's dual-motor powertrain. 
For reference, the current range-topping dual-motor bZ4X Motion starts from £48,350. There's also a £1,500 price gulf between the mid-range Corolla Design and the flagship Corolla GR Sport – a pricing strategy Toyota which could easily replicate with the bZ4X.
Now read about Toyota's new GR GT3 Concept, which was also unveiled at Tokyo Auto Salon 2022…