37 per cent rise in public electric car chargers
Figures for 2021 show London is well ahead, with twice as many electric car public chargers as next-best Scotland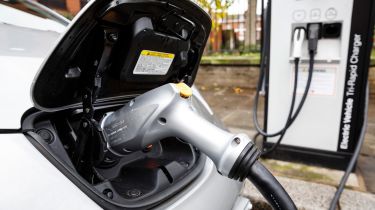 Official figures revealed by the Department for Transport show the number of public charge points for electric cars rose by 37 per cent in 2021.
That amounts to 7,600 new devices, which means, as of January 1, 2022, there were a total of 28,375 public charge points available, of which 5,156 were rapid chargers.
Breaking down the figures shows a clear difference between the regions, with London way ahead in terms of charger provision. In the capital, there are 102 public chargers per 100,000 of population, while at the other end of the scale Northern Ireland has just 18 per 100,000. In Scotland the figure is 52 per 100,000, while it's 36 per 100,000 in the North East, 32 in the East Midlands and 24 in the North West. The average provision across the UK is 42 per 100,000.
The DfT says charging devices have largely been funded by investment from the private sector, although there's an element of grant funding from the Office for Zero Emission Vehicles.
Interestingly, the DfT says its information is provided by the EV charge point app Zap-Map, which claims to record 95 per cent of all available devices. The government's own database (the National Chargepoint Registry) records fewer than 20,000 public charge points nationwide, so can't be used to verify the Zap-Map data.  
Additionally, Zap-Map doesn't record how many cars can be charged by a single charge point device, so the true picture of charge capacity is likely to be higher than the stated number, the DfT says.
Ben Foulser, Head of Future Mobility at analyst firm KPMG UK, said:
"As electric vehicle adoption rises, it's encouraging to see more public charging points installed. But there's no doubt that the pace of delivery will have to increase in order to both cope with the demand of the coming years, and to convince others to transition to EVs.
"It's also vital that any use of public funding to de-risk investment by the private sector is targeted and successful. This includes development of commercially attractive portfolios that incorporate rural and smaller sites, enabling a just transition to zero-emission mobility across the UK."
Check out everything you need to know about electric car charging here...