Nissan axes GT-R in Europe and UK over noise regulations
Nissan's supercar-baiting icon goes off sale in Britain for good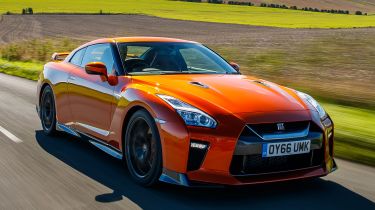 Nissan has confirmed that it will stop production of its GT-R sports car for European markets including the UK by the end of March.
In an official statement sent to Auto Express, the brand said: "13 years after its European introduction as the icon of accessible automotive high performance, we can confirm that European GT-R production will end in March 2022 due to the new EU & UK drive-by noise regulations starting 1st of July 2022."
The R35-generation version of the firm's all-wheel drive sports car, nicknamed Godzilla, arrived on the European market in 2009 to rival cars such as Porsche's 997-generation 911 Turbo.
Initially producing 480bhp from its 3.8-litre twin-turbo V6, the car set new standards when it came to performance - and price, going on sale from just £54,495. However, despite numerous facelifts during its time on sale and a rise in power to a maximum of 592bhp in the UK with the latest £180,095 GT-R Nismo, rivals such as the 911 Turbo have seen two successive generations launched.
Now, it has been confirmed production will end but Nissan has yet to announce if an all-electric successor will take its place, wearing the famous GT-R badge. Given the brand's emphasis on pragmatic family-focused machines and efficiency through electrification, it's not known at this point if a future sports car for Europe fits with Nissan's plans.
The brand has just launched a new rear-wheel-drive sports car in North America and Asia in the form of the 400Z, which will not go on sale in the UK or Europe. 
The outgoing GT-R follows a long line of 'Skylines' which have all worn the GT-R badge, stretching back to 1969.
Like GT-Rs before it, this R35 model designation carved out a niche as a favourite with tuners, the 3.8-litre turbocharged engine responding well to upgrades, with some tuning firms extracting far more than 1,000bhp from the motor after heavy reworking.
With no replacement on the horizon and European production limited to weeks not months, customers looking for the ultimate Nissan performance car may have to source cars from stock.
The brand no longer lists the GT-R among its range online, with the car not shown on its list of models on its configurator.
Now read about Nissan's electrification drive, with 15 new EVs to launch by 2030...