15 new Nissan EVs to launch by 2030 in electrification drive
Nissan also aims for electrified vehicles to account for 75 percent of its sales in Europe by 2026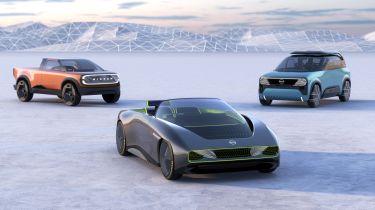 Nissan has announced wide-reaching electrification plans that will see it spend two trillion yen (around £13 billion) over the next five years to push new EV and hybrid models to market. 
By 2030, the Japanese maker plans to have 23 new electrified vehicles in its line-up, of which 15 will be pure electric. The company is also planning an aggressive short-term push, with aims to launch 20 new electrified and pure-electric vehicles in the next five years. Nissan teased its future plans by unveiling three new electrified concept cars.
By 2026, the firm says that electrified vehicles will account for more than 75 percent of its sales in Europe and more than 55 percent of its sales in its home market of Japan.
And Nissan says it can do all of this while simultaneously lowering the cost of its electric technology, making it more affordable to the average consumer.
By 2028, the company aims to bring down the cost of its lithium-ion battery technology and introduce cobalt-free chemistry mixes that will slash prices by 65 percent.
The firm is ramping up for the launch of its solid state battery technology, which could go into production as soon as 2024, before hitting the general market in 2028. 
Nissan says the tech will reduce charging times to one-third of current times and, as an added benefit, it'll cut the cost of battery packs down to £56/kWh by 2028. Once production is in full swing, Nissan says the price could be trimmed back further, to around £48/kWh, which will further narrow the price gap between petrol and electric vehicles.
Nissan also aims to be completely carbon neutral by 2050 – and the firm has already made plans for some green initiatives, including a range of battery refurbishment plants for Japan and Europe which will open for business next year.
Makoto Uchida, Nissan's CEO, said: "With Nissan Ambition 2030, we will drive the new age of electrification, advance technologies to reduce carbon footprint and pursue new business opportunities. We want to transform Nissan to become a sustainable company that is truly needed by customers and society."
Now click here for an in-depth look at Nissan's three new concept vehicles…