Bugs Away! Number plate spatter-count reveals shocking insect decline
Bugs Matter project shows flying insect numbers have fallen by almost 60 per cent in 20 years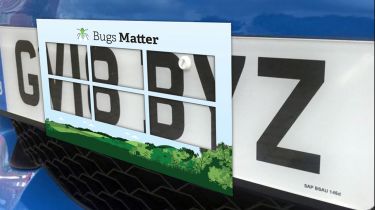 Citizen scientists have compiled data showing an alarming fall in the numbers of insects essential to the UK's biodiversity.
Using data gathered from the dead insects collected on car number plates, 2021 Bugs Matter data shows numbers have dropped by a shocking 59 percent since 2004. Of the UK nations, England's flying bug population has suffered the most, with a 65 per cent drop, while Wales has 55 per cent fewer flying insects and Scotland's bug count is down 28 per cent.
This news may at first sight delight car enthusiasts, who no longer face the problem of removing sticky bug splatter from their paintwork, but the Bugs Matter project leader, Kent Wildlife Trust and Buglife, points out the trend has dire implications for the ecosystem.
"The results from the Bugs Matter study should shock and concern us all. We are seeing declines in insects which reflect the enormous threats and loss of wildlife more broadly across the country," reckons Paul Hadaway, Director of Conservation at Kent Wildlife Trust. He says the declines are happening at an alarming rate, and that concerted action is required to avert a disaster.
"We need action for all our wildlife now by creating more and bigger areas of habitats, providing corridors through the landscape for wildlife and allowing nature space to recover," Hadaway adds.
Ecology-minded drivers - or their children - who want to participate in this year's survey from 1 June to 31 August can download the Bugs Matter app on Google Play or the Apple App store. On registering you will be sent a printable grid to cut out and use to count bugs on your numberplate. For more details visit buglife.org.uk or google Bugs Matter.
Click here for our guide on the best way to wash your car...