New £11bn investment plan for Hyundai, Kia and Genesis
New platforms, infotainment systems, autonomy and over-the-air updates and in store for Hyundai, Kia and Genesis models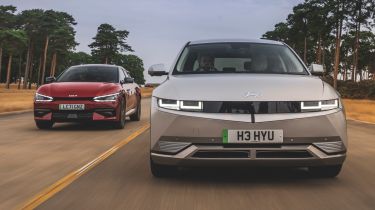 Over the next decade, Hyundai Motor Group (the parent company of Hyundai, Kia and Genesis) will invest over £11billion to bolster its upcoming Connected Car Operating System (CCOS), new pure-electric platforms and autonomous driving technology. 
The announcement also detailed the timeline for over-the-air (OTA) updates for the firm's current cars - both pure EVs and internal-combustion engined models. The software update will be rolled out for all vehicles by 2025, which Hyundai says will "offer enhanced performance and functionality". The OTA update is expected to affect 20 million vehicles globally. 
A new CCOS will also be internally developed by Hyundai in collaboration with NVIDIA - a global leader in artificial intelligence technology. A key goal of the new system is to provide a fully autonomous driving experience. "Hyundai Motor Group's philosophy in developing autonomous driving technology is 'universal safety' and 'selective convenience," said Woong Jun Jang, Senior Vice President of Hyundai Motor Group. "We're working hard to improve the technology for everyone on the road, not just drivers, to move safely and conveniently." 
Hyundai also points out that the data generated from having 20 million vehicles on a connected car system will provide the basis for further technological development. This data could feedback more information about individual customer requirements - in turn creating a more customised driving experience.
2025 will also see the introduction of new vehicles based on Hyundai's next-generation electric car platforms. One of the platforms is called eM - which will offer a 50 per cent improvement on range, plus it will be able to support a high level of autonomous driving. The other platform will be called eS and will focus more on commercial vehicles. Both will sit on the Hyundai Motor Group's Integrated Modular Architecture. 
The use of a single architecture across the group should make the production process simpler and cut costs. Paul Choo Executive Vice President at the Hyundai Motor Group said "These new platforms are evolving under Hyundai Motor Group's 'Integrated Modular Architecture', which will lead to further standardisation and modularization of core components of electric vehicles, such as batteries and motors while offering advantages in sectors additional to electric vehicles."
Now read our review of the Hyundai Ioniq 6...