New UK battery factory to be built by Jaguar Land Rover owner Tata
A £500m subsidy package has helped the UK clinch a new battery gigafactory deal, producing 40GWh of cells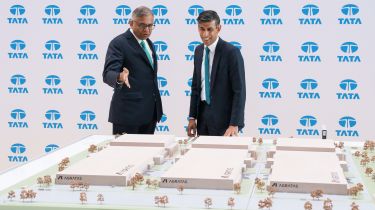 Tata, which also owns Jaguar Land Rover, has picked the West Country site in spite of stiff competition from elsewhere in Europe, including Spain. The factory will produce cells for a variety of applications within the energy and mobility sectors, including batteries for new EV models from JLR brands, as well as potentially supplying other car makers. 'Insiders' close to the deal are claiming the factory will employ up to 9,000 people, and produce enough batteries for hundreds of thousands of vehicles. 
"I am delighted to announce the Tata Group will be setting up one of Europe's largest battery cell manufacturing facilities in the UK," said company chairman Natarajan Chandrasekaran via an official statement today. "Our multi-billion-pound investment will bring state-of-the-art technology to the country, helping to power the automotive sector's transition to electric mobility, anchored by our own business, JLR."
Mike Hawes, chief exec of industry body the Society of Motor Manufacturers and Traders, said the announcement is "a shot in the arm for the UK automotive industry", suggesting it would bring major benefits to the economy as well as new manufacturing jobs. "We must now build on this announcement by promoting the UK's strengths overseas, ensuring we stay competitive amid fierce global pressures and do more to scale up our EV supply chain," he said.
The announcement is a big win for the UK Government under prime minister Rishi Sunak, and the deal is thought to include extensive subsidies that could amount to £500m. Discussions with Tata around plans for its new gigafactory have been ongoing for months, and the deal will be a big boost for the UK car industry following the fall-out from Brexit and the more recent failure of gigafactory startup Britishvolt. The Somerset location chosen for the new plant puts it in easy reach of JLR's Midlands car factories, as well as close to the port of Avonmouth.
How much is your car worth? Find out with our free valuation tool...