New EV sales to private buyers fall 14 per cent
The car industry has renewed calls for taxpayer subsidies on new EV purchases as demand for manufacturers' current offerings slips back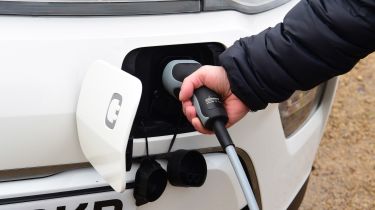 Private buyers are turning their backs on car makers' battery-powered offerings, latest sales figures suggest. The total number of cars sold in September this year was 276,610, a 21 per cent increase on September 2022, powered by a huge 40.8 increase in fleet registrations. Last September's fleet sales were constrained by supply issues, says the Society of Motor Manufacturers and Traders (SMMT), which compiles the data.
There was growth in sales of all types of electrified vehicles in September too, with plug-in hybrid (PHEVs) up 50.9 per cent, and self-charging hybrids up 30.7 per cent. Full-electric battery-powered cars (BEVs) rose by 18.9 per cent, but as that was less than the market growth overall, BEV market share actually slipped backwards from 16.9 to 16.6 per cent.
Worryingly for a car industry faced with a ZEV Mandate from January, when 22 per cent of each manufacturer's sales must be 'zero-emission', sales of BEVs to private buyers fell back by -14.3 per cent. That means fewer than one in 10 private buyers opted for an electric car in September, the SMMT says, and the organisation has renewed calls for government incentives and other mechanisms to boost sales and stimulate demand.
Pointing out that the recently announced ZEV Mandate means the UK still has "the most challenging ZEV transition timeline", the SMMT says achieving industry targets will depend on private buyers making the transition, along with fleet customers. However, it also points to the UK being one of the few major global markets working towards a 2035 end of sale date, where purchase incentives are not available.
"A bumper September means the new car market remains strong despite economic challenges. However, with tougher EV targets for manufacturers coming into force next year, we need to accelerate the transition, encouraging all motorists to make the switch," says SMMT chief executive Mike Hawes. "This means adding carrots to the stick – creating private purchase incentives aligned with business benefits, equalising on-street charging VAT with off-street domestic rates and mandating chargepoint rollout in line with how electric vehicle sales are now to be dictated. The forthcoming Autumn Statement is the perfect opportunity to create the conditions that will deliver the zero emission mobility essential to our shared net zero ambition."
Thinking of making the switch? These are the best electric cars to buy...