NIO and Shell sign agreement for battery swap stations
Chinese EV brand and energy giant collaborate to bring battery charging and swapping stations to Europe from next year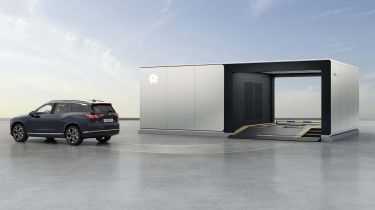 Chinese electric car maker NIO has entered into a strategic cooperation agreement with Shell, which among other things, will see EV battery swapping stations installed in Europe.
The agreement states that NIO and the energy giant will "jointly construct and operate battery charging and swapping facilities". The plan is to install 100 battery swapping stations in China by 2025, and "start to construct and operate" pilot stations in Europe.
NIO has already installed over 300 battery swapping stations across China. Currently only available to owners of the brand's cars, the facilities can remove a flat battery and exchange it for a fully charged one in three minutes - significantly faster than even the quickest chargers and in a similar ball park to filling up with fuel.
Shell will also make its charging network in Europe available to NIO users and allow NIO to install swapping stations at its locations. NIO will install Shell Recharge rapid charging points at its locations in return.
The two brands will "continue to explore more collaboration opportunities in battery asset management, fleet management, membership systems, home charging services, advanced battery charging and swapping technology development".
Shell, the world's largest petrol retailer, claims it is "committed to becoming one of the leading charging service providers worldwide."
NIO has taken its first steps in the European market, selling its ES8 SUV and ET7 saloon in Norway. Further European expansion is due, while the firm said in May it could expand into the UK if there's enough interest.
Check out our list of the best electric cars here...