'Nissan has been quietly building an advantage over electric car rivals'
Steve Fowler thinks Nissan is in a great position to build on the Leaf's success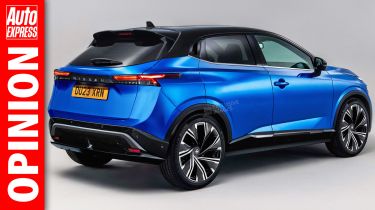 Just over 10 years ago, Nissan launched the first generation of its Leaf. It was a groundbreaking car that has gone on to become the world's best-selling all-electric model and led the electric revolution.
A car ahead of its time, perhaps, because it's taken pretty much every other car maker more than a decade to catch up. So you'd think Nissan would've been taking advantage of its first-mover advantage with a whole host of follow-up products, wouldn't you? Well, it replaced the Leaf with a second generation car and, er, that's it.
Now, though, with the exciting all-electric Ariya SUV arriving at the end of the year, based on a new platform that will be shared across the Renault-Nissan Alliance, we've got wind of other models in the pipeline, starting with an electric Juke-sized SUV. What took Nissan so long?
It's had its fair share of troubles in recent years, but in all that time, not only has Nissan been beavering away on new models, it's also been quietly building a decent advantage over rivals. With sales of the Leaf well in excess of half a million worldwide, it has a bank of data on and experience of electric cars that others can only dream of. And unlike most dealers, Nissan's have been selling EVs for more than a decade, too.
All that should stand them in good stead for its onslaught of electrified cars, arriving into an increasingly crowded market. It's going to be fascinating to see if the Leaf really has given Nissan first-mover advantage.
One of the people behind the launch of the Leaf, and much more besides, is former Nissan COO (and ex-Aston Martin CEO) Dr Andy Palmer. We're delighted to welcome Andy as a regular contributor to Auto Express to give us a level of insight into the car industry that we know you'll find fascinating. His report this week into the challenges facing the UK industry, and the technologies involved, makes essential reading for us all, especially decision makers at the highest level.
Check out the best electric cars to buy right now...