Nissan to tackle Le Mans in 2015
Nissan will take on Audi, Toyota and Porsche in the 2015 FIA World Endurance Championship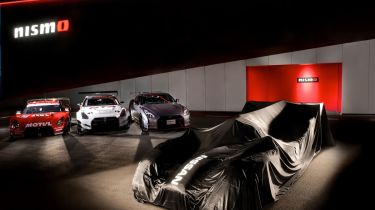 Nissan has announced it will take on Audi, Porsche and Toyota in the LMP1 prototype category of 2015 FIA World Endurance Championship and race at the 2015 Le Mans 24 hours.
Nissan announced its WEC plans in London on May 23 2014. While it stopped short of announcing drivers, technical specifications and the date the car will first take to the track, it revealed it will be called the Nissan GT-R LM NISMO and will also contest the 2015 Le Mans 24 hours.
Shoichi Mitayani, the President of Nissan's performance branch NISMO, explained that Nissan's decision to give its upcoming LMP1 challenger the GT-R name is a nod to the NISMO brand, as well as the GT-R road car's achievements in international GT racing.
"We have chosen to take the GT-R name to Le Mans as the GT-R symbolises the ultimate in Nissan's performance," said Mitayani at the announcement. "It is a true aspirational brand - a car that our fans and customers love to drive and own.
"We have been using GT-R in motorsport for many years now, in [Japanese] Super GT and GT3. For us, LMP1 is the ultimate test."
Nissan last competed as a works team at Le Mans in 2000, but returned full-time as an engine supplier in the LMP2 prototype category in 2011.
Nissan's Chief Planning Office & Executive Vice-President, Andy Palmer, added that the flexibility in the LMP1 category brought about by the 2014 WEC rule changes are part of what attracted the Japanese manufacturer back to Le Mans.
"All our rivals in the [LMP1] class have taken different technical approaches and we will be doing the same," said Palmer. "We want to win in a very different way to that of our rivals.
"We won't be turning up in a vehicle which is a basically another hybrid that looks like another Porsche, Audi or Toyota, they all look the same to me. Our intention is to do something that is a little bit different."
The 2014 Le Mans 24 Hours takes place on 14-15 June.
Who do you think will win at Le Mans this year? Make your prediction in the comments section below...