"Pick-up sales are on the up, so it's no wonder more car brands are entering the fray"
After noticing that pick-ups are becoming easier to live with, it's not hard to see why they are growing in popularity, says Graham Hope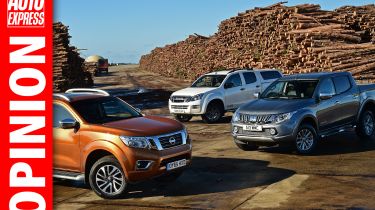 With the number of SUVs on the market expanding on a monthly basis, and sales rising in a spectacular fashion, you could be forgiven for being unaware of another class of car that's also enjoying a relative boom period – the pick-up.
According to figures from The Society of Motor Manufacturers and Traders, the number registered last year – 33,302 – has risen 68 per cent in five years.
The figure may be modest, but when I met Javier Piris, light commercial vehicle director of Nissan's Barcelona Technical Centre Europe, last week, he was clear he expects the upward trajectory to continue.
"We have made pick-ups easier to own," he explained. "In the past they were trucks, and there were compromises in fuel economy, handling, interior comfort and equipment. Now we have addressed this." Driving his firm's new Navara on the motorways around Barcelona, it was hard to disagree. I found it comfortable and relatively refined; you can read our in-depth review here.
With sales on the up, it's no wonder that more makers are entering the fray; expect to see the likes of the Renault Alaskan, Mercedes X-Class and Fiat Fullback on offer soon. And according to Piris, there is another reason for this: "The pick-up is the most 'global' product that exists. We can sell it all around the world, but we need to tune it to each region."
• The combination of SUV and cabrio: perfect for Brits?
In other words, there is far less 'tailoring' for individual markets required than for passenger cars, making it a cost-effective option for makers.
Piris was bullish enough to tell me the "traditional 4x4 has been wiped from the market". That's a very bold claim not everyone would agree with, but one thing is clear – more pick-ups are on the way, due to increased demand from customers who love the practicality and image they provide in spades.
What do you think about the rise of the pick-up truck? Leave us a comment below...