The combination of SUV and cabrio: perfect for Brits?
With the launch of the Evoque Convertible, Steve Fowler wonders how long it will be before other manufacturers jump onto the same bandwagon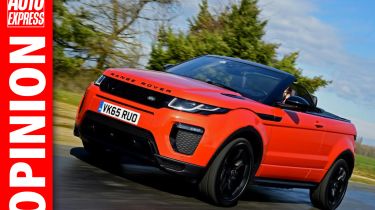 You can see how the bean counters at Land Rover have been seduced by the idea of an Evoque Convertible. The increasing appeal to buyers of anything even vaguely SUV-like is hard to ignore, while in the UK at least, we have a totally irrational love of open-top cars.
And when I first saw the Evoque Convertible last year, I have to admit to being a bit surprised. As a concept it works - and this week we got to find out how the car drives, too.
• Range Rover Evoque Convertible first drive
You can bet that every other car maker will be keeping a very close eye on Evoque Convertible sales to see if the luxury SUV cabrio is another bandwagon they should all be jumping on to (and my bet is we'll see a Chinese LandWind X7 convertible copycat at April's Beijing Motor Show).
Volkswagen debuted its own convertible SUV, the T-Cross Breeze, at the Geneva Motor Show, where I caught up with the brand's new boss of passenger cars, Dr Herbert Diess.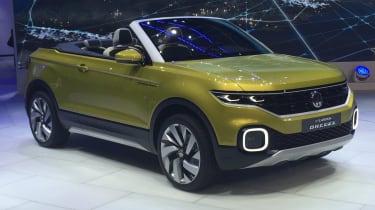 Diess joined VW last year from BMW, where as well as being head of development he spent some time in the UK running the MINI plant in Oxford; he gets our weird love of open-top cars!
He's also a guy brimming with enthusiasm for the opportunity presented to him, and told us how his vision for Volkswagen includes injecting more emotion into the troubled brand.
And that emotion comes from new cars that could well include a convertible SUV like the T-Cross Breeze. As we head into an increasingly electric era, Diess speaks with great excitement about future product and how much easier it'll be to offer even greater variety. And with the way he talks about the old VW Camper, I reckon a new one is in his sights.
What do you think of the new SUV-cabrio niche? Would you buy one? Let us know in the comments below...