Nissan Pulsar Nismo brings 275bhp to the hot hatch party
Nissan is set to attack the Nurburgring front-wheel-drive record with a Nissan Pulsar Nismo packing 275bhp
Nissan is preparing to mix it with the hot hatch big boys by launching a Nismo-tuned version of its new Pulsar hatch. And we won't have to wait long to see it – a full production version of the Nissan Pulsar Nismo will debut at October's Paris Motor Show, although you won't be able to buy one for another 12 months.
Our exclusive images show how the unremarkable-looking Pulsar hatch will be transformed into an aggressive performance car with a trademark red and white Nismo makeover, a low-riding bodykit and bigger wheels.
• Paris Motor Show 2014 preview
Nissan is setting its sights firmly on the VW Golf GTI, Ford Focus ST and Vauxhall Astra VXR with the newcomer, not to mention the SEAT Leon Cupra and Renaultport Mégane 275 Trophy. And it's these last two cars that should be looking over their shoulders. As a way of proving the Pulsar Nismo's pedigree, the brand is reportedly targeting the front-wheel-drive production car lap record at Germany's Nürburgring.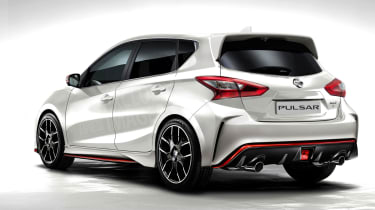 This is currently held by the stripped-out Mégane 275 Trophy-R (it stands at seven minutes 54.36 seconds), and is seen as a badge of honour in the hot hatch class.
That's why there are plenty of contenders looking to steal Renault's crown: SEAT is considering a more extreme Leon Cupra with a roll cage instead of back seats as it bids to reclaim the fastest lap kudos, while Honda is openly targeting the record with next year's 300bhp Civic Type R.
To stand a chance, the Pulsar Nismo will need far more power than the Juke Nismo and Nismo RS, which use a 1.6-litre turbo to deliver 197bhp and 212bhp respectively.
Nissan Pulsar Nismo S and Nismo RS planned
Our sources suggest the standard Pulsar Nismo S (shown in our exclusive images) will have in the region of 247bhp – placing it head-on with the Focus ST. But an RS should produce something more like 275bhp, taking it into Leon Cupra territory.
Of course, there's more to performance than just power, so both versions will come with bigger brakes, stiffer suspension, lower ride heights and recalibrated steering and gearboxes than the standard Pulsar.
The RS model will take things further with a reinforced chassis and a limited-slip front differential. Less clear is which engine will provide the power. However, last November Nissan showed a Nismo concept version of the Sentra (a US-market saloon not sold in Europe), powered by a 240bhp 1.8-litre turbo. With some light tuning it could be the perfect candidate. Alternatively, Nissan could tune the Juke's 1.6. The Peugeot RCZ-R proves that 270bhp is possible from a 1.6-litre turbo.
In the past, Nissan's chief planning officer and executive vice president, Andy Palmer, has told us: "The focus is on accessible excitement [with Nismo], but we also need to demonstrate we can go head-to-head with the best in the business. Think of us as trying to create a democratised AMG."
And if the Pulsar Nismo can deliver on the track while undercutting models like the £26,330 Golf GTI or £22,295 Focus ST, Nissan will have achieved just that.
Find out more about the fastest cars around the Nurburgring here.