Nissan Qashqai gains new 1.3-litre petrol engines
The Nissan Qashqai's new 1.3 turbocharged unit is offered in two power outputs, taking the place of the old 1.2 and 1.6 engines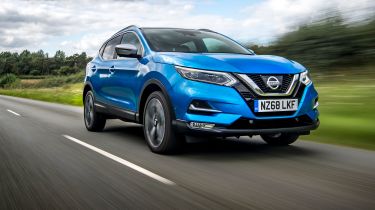 Nissan has tweaked the ever-popular Qashqai with the arrival of a new 1.3-litre turbocharged petrol engine.
It'll be offered in two power outputs, each replacing one of the Qashqai's existing petrols. The first version takes the place of the 1.2-litre turbo. At 138bhp and 240Nm, it represents increases of 25bhp and 50Nm over the outgoing unit.
A more powerful 158bhp unit deputises for the outgoing 1.6. It produces the 3bhp less than before, but a 260Nm peak torque figure is 10Nm higher.
Both engines send their drive to the front wheels and get a six-speed manual gearbox as standard. The more powerful unit is available with a seven-speed dual clutch automatic gearbox, too - the first time such a system has been used in a Nissan. Take the auto option and you'll get an extra 10Nm of torque, bringing the total to 270Nm.
Regardless of power output, each of the new engine choices bring improved efficiency over the models they replace, and all models get a particulate exhaust filter to reduce emissions. The result is that on 17-inch wheels, the new engines achieve 53.3mpg on the new WLTP cycle. A figure of 121g/km represents an 8g/km drop in CO2 emissions compared to the old 1.2. On 18 and 19-inch designs, the new model emits 130g/km - 13g/km less than before.
Nissan claims that maintenance costs will drop too, thanks to the fact that service intervals have increased from 12,500 miles to 18,000 miles.
The unit was co developed by the Renault-Nissan alliance and Daimler, and the unit has already been used by Mercedes in the latest A 200, where it produces 161bhp and 250Nm.
The new 1.3 is available from £19,595 in 138bhp form and with Visia Trim, rising to £28,595 with 158bhp in top-spec Teckna. Prices for the automatic haven't yet been confirmed, but will be slightly higher than the manual.
Read our in-depth review on the Nissan Qashqai right here...