Nissan Qashqai 2014 video review
Our exclusive video review of the excellent new Nissan Qashqai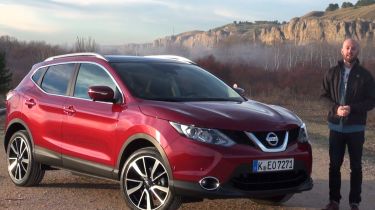 Over the last seven years the Nissan Qashqai has spawned an army of imitators. But now the original crossover is about to be replaced by this all-new model. It's bigger, cleverer and cleaner than ever before and it could be about to teach those copy cats a lesson or two.
The sleek new design is a bit less rounded and friendly-looking than before - the DNA from the original Qashqai is still very much intact. The prominent new V-shape grille will become a feature on the new Nissan range. The overall length has been stretched by about 47mm, and it's lower and wider too.
• Nissan Qashqai automatic 2014 review
New headlights on top-spec models use LED technology and sap half the power of normal halogen bulbs. Our Tekna model also came on flashy 19-inch alloy wheels. The Qashqai definitely feels like a bigger car this time around. Some clever packaging means that there's more headroom and more shoulder room than before and it feels wider, too.
This particular model - which is the top-spec Tekna version - even comes with a swanky panoramic glass roof like you get in a Range Rover Evoque. For the really good stuff you're going to need to take a closer look because the quality this time around has really taken a quantum leap forward. There's squashy soft-touch plastics all over this dashboard and there's also a lot more technology at work too
• Nissan Qashqai Tekna 2014 review
The 1.2 petrol is very refined but you'll probably want to wait for the 1.6-litre 161bhp turbo petrol which is due in September if you want to go for a really sporty drive in the new Qashqai.
It has lost none of its practicality either - the boot is now 430 litres which is 20 more than you got in the old car, and there's plenty of room in the back thanks to the low transmission tunnel and tall roof. You can split the roof with a helpful divider that's built into the floor and there's even space to carry the tunnel cover when it's not in use.
Sadly the seven-seat Qashqai plus two will no longer be offered so you'll have to buy the new X-trail if you want some extra seats in the back.
• Nissan Qashqai diesel 2014 review
This time around the Qashqai is a little bit less innovative - Nissan have played it safe and it's a crowded market so some of the magic of the original has definitely been lost. Then again, it's also much higher quality and the amount of technology and some of the efficiency of the new engines really is very impressive. Those combined will help it rocket straight to the top of the crossover class and it's likely to stay there for some time.