'You should be able to buy a car in any way you want to'
Despite a shift to online car buying, editor-in-chief Steve Fowler thinks dealerships still have a role to play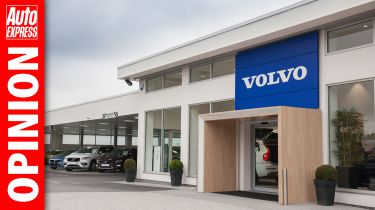 We've spoken before how Volvo has become a surprising tech leader, and it seems reluctant to give up that mantle. Now, Volvo has given more details about how it plans to go all-electric with a new range of cars from 2030.
But it's an additional piece of news that will have made Volvo's dealers scratch their heads: Volvo has declared that you will only be able to buy its electric cars online. The aim is to make it simple and transparent with no-haggle pricing – and no need to visit a dealer.
Of course, many Volvo dealers have invested heavily in the brand and have done an incredible job of keeping sales alive while showrooms have been shut. So it's no surprise Volvo is saying dealers still have a role to play. "They will continue to be responsible for a variety of important services," says Volvo. That's very kind of it.
Reading between the lines, it means that if you really want to buy a Volvo in your local showroom you can do, but you'll have to log on to Volvo's website to do the deal while you're there. And if you want to do a test drive from home and have your car delivered to your house, it'll be your local Volvo dealer doing the legwork.
Volvo is wrapping this new initiative up under the 'Care by Volvo' tag – previously used for the brand's pricey-looking subscription service. Apparently your all-electric Volvo will come with a package that includes servicing, warranty, roadside assistance and potentially insurance and home-charging options. Whether you'll be able to unpick that remains to be seen.
Citroen is also trying to persuade more customers to buy online by offering customers five-year warranties if they buy digitally (although I'm told some dealers will also offer the same cover). These initiatives are great, but let's hope it doesn't remove choice from the car-buying journey. You should be able to buy a car exactly how you want to – and if that means visiting your friendly local dealer, so be it. 
Check out the latest on coronavirus restrictions in the automotive industry here...