'A 3-word verdict on UK public electric car charging: too bloody complicated'
Mike Rutherford thinks one of the biggest barriers to electric car uptake is the UK's public charging 'system'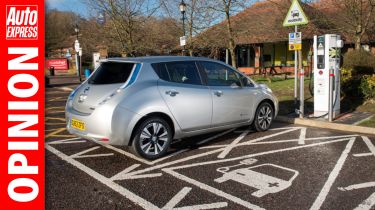 Here's a first: the Government says it needs to know from you, dear reader, how life really is or is likely to be as a user of electric cars. How can your electrified motoring life change in the 2020s, when new EVs are optional? Will it get better or worse from 2030 onwards, when they'll be compulsory? Specifically, after deciding to kill off new diesel and petrol cars by then, our leaders say they need your help in explaining how improvements can be made to the "consumer experience at public EV chargepoints".
For your own sake, I urge you to contribute to this vitally important 'open consultation'. Justifiably, we complain Governments don't draw on the experiences of real-world motorists. But now Westminster appears to be doing precisely that. For what it's worth, I have – as an unpaid consultant – devoted a few hours to the process. As someone who's been driving and charging EVs for more years than I care to remember, here's my three-word verdict on the public charging 'system': too bloody complicated.
My main suggestions for making it more reliable, clean, efficient and trustworthy? Massively simplify the generally unpleasant, time-consuming process of searching for, then purchasing electricity from public chargepoints. We pay for petrol and diesel when we arrive unannounced at properly lit, covered forecourts, where staff are able to help in case of (rare) hiccups or emergencies. With or without them, we merely tap our cards, then a minute or three later drive away, all fuelled up. It's painless.
At public chargepoints, it's a pain – the most painful point of the week when I'm using an EV. Providers HAVE to adopt the same simple-to-administer systems. Lights, protection from the elements and on-site employees are usually conspicuous by their absence at public chargers – this MUST change. Same goes for the headache of seeking a decent mobile signal and downloading countless annoying apps for availability, payment, etc. As for paying subscription fees for electricity we may or may not use, if we don't have such fees at fuel pumps, why do we need them at chargepoints? It's an unnecessary complication.
Some improvements are under way. But a lack of clear, published pricing remains a problem. Usually, the customer (particularly a casual user) has no accurate idea of prices until after the vehicle has been charged. Public chargepoints could overcome this by clearly displaying printed, illuminated price lists, just as petrol and diesel retailers do.
I've already told the Government that at the very least, chargepoints should be as simple, safe and hassle-free as garage forecourts. Trouble is, they fall way short. No wonder that after a full decade on sale in UK showrooms, and despite growing popularity, electric cars still make up a small portion of the market. The disjointed industry responsible for the public chargepoint 'system' must take its share of the blame for that. As must the UK Government, which has so far failed on the EV infrastructure front. But these are merely my humble views. By way of its online consultation, the Government wants to hear yours, too, before 10 April 2021, via smartsurvey.co.uk/s/D5GX5C/
* This column was written before the Government announced its overhaul of the motorway charging network in the UK.