'Autonomous car tech can help you enjoy driving even more'
Motorists are naturally suspicious but Steve Fowler thinks autonomous car tech can help take the stress out of driving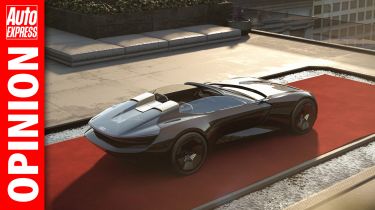 The amount of technology going into our cars these days provokes much debate and is often criticised. Whether it's driver distraction or tech we just don't want that might even let big brother spy on us, there seems to be a natural wariness of technology.
But with new tech comes progress, making our lives easier and more enjoyable. Even if it takes a few iterations to get it right – and it usually does. 
Autonomous driving technology seems to have fallen off the radar a bit over the past 18 months, but Audi has put it back on the agenda with its skysphere concept, previewing the company's design direction in a largely electric and autonomous future.
Of all the new technologies we cover, autonomous driving is one of the most controversial. For many it's difficult to trust and is also likely to take the pleasure out of one of the things we enjoy doing most: driving. That's something I dearly love and I never want to let go of. I take real pride in driving well on the road; staying safe yet being able to make swift progress is a real joy.
However, recently I had a holiday in Cornwall with my family, and it seems everyone else wanted a break at the same time. The journey down was fantastic, taking us around four hours – I really enjoyed it, behind the wheel of our (recently award-winning) Hyundai Tucson. But the journey home... over eight hours, mostly in nose-to-tail traffic – no fun at all. 
It was then that the Hyundai's Highway Drive Assist really came into its own. This Level 2 assistance tech took care of the steering – keeping the car in lane – with Smart Cruise Control maintaining a set distance from the car in front. I was in control with my hands on the wheel ready to take over, but I guarantee it took the stress out of a horrible drive and left me more relaxed when we eventually got home. So tech – at the right time and when it's well developed – can help you enjoy driving even more.
Check out everything you need to know about driverless cars...