'The UK just had the greatest transport crisis in living memory'
Mike Rutherford laments the 'disorder, chaos and anarchy' of British roads in September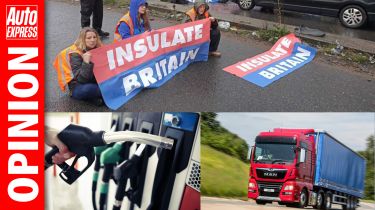 I'm ashamed and embarrassed to admit this, but the UK has just had transport meltdown cruelly visited upon it. The 'system' is broken, as are the souls of the drivers and passengers frustratingly trying to use it on a regular basis.
I've no doubt that late September 2021 marked the worst, most disorderly period for transport in the past half-century or more. I've never known it to be more difficult, soul-destroying and chaotic to get petrol. Of all the controversial transport matters, ministers and mayhem I reported on during the eighties from the Houses of Parliament to the European Union HQ , nothing I witnessed compared with Britain's travel-related debacles last month. 
Anarchy on major roads, courtesy of criminal protestors occupying live lanes, inhumane queues at Heathrow (now dogged with a rip-off drop-off charge of £5), a "serious breach" followed by nationalisation on a huge part of the dysfunctional rail network – all these things would've been unacceptable enough. But the havoc created by the failing, collapsing, confidence-sapping energy firms tasked with charging EVs; the absence of truckers to deliver essential goods; plus the chaos on petrol/diesel forecourts were the icing on the cake. Thus the greatest transport crisis in living memory. 
So what did Transport Secretary Grant Shapps have to say at the height of the crisis when roads, HGV/tanker deliveries and forecourts seized up?  "The thing that sparked this particular rush on the petrol stations is some fairly irresponsible briefing from one of the road haulage associations, which seems to have got this going." Eh? What a shameless attempt by Shapps to blame the Road Haulage Association (RHA). It's his Government and department that have the personnel, and legal and financial powers to plan, administer and deliver a working transport system. The fact that we cough up around £50billion annually in road-user taxation proves that we've more than paid for one that works.
His great solution for fixing the bruised, bloodied and busted transport network and related infrastructure? "Obviously we've got a massive package of different alleviations in place." Clear as mud. This type of arrogant 'couldn't give a toss about travel and transport' culture at the highest level, combined with cluelessness and sheer ineptitude just has to change as we exit (hopefully) Meltdown 2021.
If the Government really believes in more proper jobs, facilities and financial rewards for tanker drivers and other truckers then it needs to more generously subsidise their training, testing and wellbeing; build more roadside rest stops and loos for them; assure them that the damaging threat of self-driving lorries will not soon render them redundant. And talking of incentives, how about trials to prevent future transport meltdowns? For starters, motorists in notoriously congested areas where fuel shortages hit hardest could be offered cash payments, tax reductions, or other rewards if they agree to leave their cars parked at home for say, three days out of every seven. Any takers?
Do you agree with Mike? Let us know your thoughts in the comments below...