'ULEZ is expanding and I suspect the Greater London area to be next'
Mike Rutherford wonders if there will be further ultra-low emission zone expansions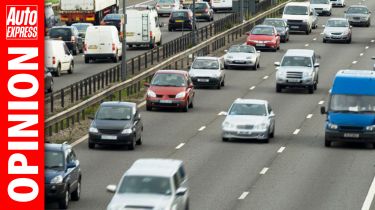 First, don't kid yourself that London's soon-to-be-extended ultra-low emission zone and its unjustifiable £12.50 daily charge are solely problems for beleaguered Londoners. This, remember, is a scheme designed to either restrict certain drivers' freedom of movement (wherever they're from), rob them of up to £4,000 per year, or more likely, a bit of both. So it's a nightmare for countless millions of motorists who are required to drive into or near to the capital's centre for work, education, family, healthcare and other valid reasons.
Second, guess how much the ULEZ will grow when it's "expanded" on Monday 25 October? I reckon a 10-per-cent expansion might be fair. A doubling would be harsh, but understandable in view of the greed of politicians such as Labour's London Mayor Sadiq Khan plus others in the major political parties – including Conservative Prime Minister Boris Johnson, who actually conceived the ULEZ. As for the idea that the zone triples or quadruples in size – that would be plain unfair, almost obscene, right?
But the Mayor's office brought a rapid halt to the guessing, thanks to a brutally clear, unapologetically defiant, beyond-obscene confession: "The expanded zone will cover an area 18 times larger."
That surely has the potential – and then some – for an 18-fold increase in the number of drivers being caught, charged, fined, hounded and hunted down for not having those often newer, more expensive vehicles of the "ultra-low" variety.
Equally worrying is that the London Mayor's newly drawn-up border circling his massively enlarged zone is perilously close to penetrating into neighbouring counties. The zone is already rapidly extending, and I suspect the entire Greater London region will be next, before the M25 eventually becomes yet another extended ULEZ boundary.
After that, what else? County ULEZs? A Southern England (population 28 million) ULEZ? An England ULEZ? And ultimately a blanket UK ULEZ – to ensure that everyone in Britain driving a vehicle that's not deemed ultra-low-emission will be financially bashed by the state? The potential annual revenues will be far too enticing and profitable for motorist-loathing, money-grabbing political leaders in office to say no to.
Meanwhile, a day after I argued that the wholly illegal road protest and occupation season must, and surely will, end this autumn, organisers of the anarchic groups formally vowed to halt their highway-blocking actions until, er, 25 October!
How ironic this is the day that motorists face the real threat of being snared and fined for entering new, confusing, hugely extended ULEZ territory. Coincidence? I think not.
We drivers and passengers are clearly on the receiving end of these extreme forms of provocation from politicians and protesters. They give us no choice but to defend ourselves and fight back – calmly, peacefully and legally, but unapologetically, fiercely and collectively. There are far more of us than there are of them, and we're not short of the common sense, reasonable behaviour and spirit of fair play that they so desperately lack.
Do you agree with the ULEZ expansion in London? Let us know in the comments below...