'The British Motor Show will be everything traditional motor shows are not'
Mike Rutherford thinks traditional global motor shows need to rethink the way they operate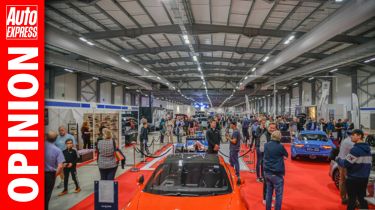 Geneva, Paris, Frankfurt, London, Turin, Detroit and Tokyo all have something in common. They are, or have been, world-famous, occasionally notorious, but increasingly outdated traditional venues for motor shows. Trouble is, as the once-great car exhibition capitals of the world, they're now either dead or dying. 
The reasons for their demise are many. Most shows were staged in chilly autumn or freezing winter months when the organisers grabbed expo halls for the lowest prices, causing showgoers like me to freeze our bollards off while queuing to get in. They stuck for too long to the tired old formula of static cars doing nothing and going nowhere, in spite of warring manufacturers suffering from "mine is bigger than yours" syndrome and blowing untold millions on their monumental, blingy, gin palace-like stands. Customers blocked by roped-off areas, glass walls, and booted-and-suited bouncers were another nail in the coffin.            
But it's not all bad news. At the opposite end of the spectrum is the British Motor Show, reborn last August, when it occupied the Farnborough exhibition halls and adjacent grounds. Many people – me included – were pleasantly surprised by larger-than-expected crowds, endless drive and ride opportunities, stunt shows and dozens of other activities designed to entertain, inform and educate. Now the organiser has confirmed it'll return to Farnborough for at least the next four years, from August 2022. There's 30 per cent more space for exhibitors, a predicted 49-per cent rise in visitor numbers, but zero increase in ticket prices. 
Very deliberately, our new national motor show is, and will continue to be, everything that those traditional exhibitions are not. CEO Andy Entwistle would, of course, like to see the latest products from all the car makers, but he's assured me that he is encouraging manufacturers and other exhibitors to spend wisely and not waste their money on colossal and palatial stands that can alienate showgoers. 
The cars will again be the undisputed stars at the British Motor Show in 2022, along with several motoring celebs, motor industry leaders and designers, racing and stunt drivers, major broadcasters, top retailers, specialist firms and countless others. But it's not just a car show for petrolheads. There will also be zones for EVs, motorhomes and increasingly popular DIY van conversions. There'll be bikes, too; auctions in conjunction with BCA; cars and karts for kids and adults to drive; self-build and retrofit vehicles; education, careers and tech lessons or sessions; awards ceremonies; halls (plural) of fame; world record attempts – you name it. 
Oh yes, the deliciously deafening din and unmistakable smell of pretty much everything motoring and motorsport-related are guaranteed for the British Motor Show 2022. You have been warned.
Did you go to the 2021 British Motor Show? Let us know what you thought of it below...