'Audis, BMWs and Mercs are now as common as muck'
Mike Rutherford says exclusivity doesn't need to be expensive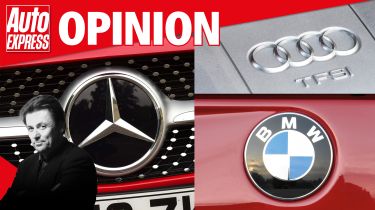 Fed up with once rare, now "common as muck" cars that absolutely everyone drives these days? Looking for something less mainstream and obvious, a tad more different and exclusive – the sort of car that'll likely be the only one in your street, if not your entire village or town?
Usually, cars and brands that aren't the norm but are rare (Astons, Bentleys, Ferraris, McLarens and the like) don't come cheap and can be hard to acquire. But these aren't usual times. We no longer know what normal is. And that's why some attractive, thin-on-the-ground new cars now have affordability, rarity and accessibility written all over them.
It's like this: only seven manufacturing super-groups based in just four countries (Germany, Japan, France and Korea) were responsible for around eight in every 10 new-car sales in Britain last year. Almost a quarter of those were from VW-Audi (including SEATs and Skodas). Next in the super-group sales league were Stellantis (Peugeot, Fiat, Vauxhall etc), BMW-Mini, Hyundai-Kia, Toyota-Lexus, Nissan-Renault (with a dab of Dacia), and Mercedes-Smart.
Ford is the only truly solo act that still does okay here – although nowhere near as well as before, given that the Blue Oval plummeted from No.1 to No.4 seller overall last year, losing the market-leader crown it's worn for decades. Another standalone firm is Tesla, which keeps its UK sales figures to itself, although they must be healthy, because the Model 3 was Britain's second best-selling car in 2021, and therefore far more common than, for example, the Toyota Yaris. Unbloodybelievable.
So much for the colossal European and Asian super-groups, the big North American-based firms, and the cars they collectively pile high and dominate the UK market with to such an extent that some of the lonely, little outfits who sell in far smaller volumes were almost annihilated last year. Almost, but not quite, thankfully.
The global mini-group that is JLR now accounts for only four in every 100 new cars sold in the UK. For Volvo-Polestar it's three per 100. Next come the small but still interesting and independent (sort of) firms such as Honda, Suzuki and Mazda (both lately aided by Toyota), SsangYong and MG (with help from SAIC). These modest, talented, often forgotten second or third-tier Japanese, Korean, and British/Chinese firms build good – sometimes very good – mostly affordable cars that now sell in such low numbers that they're massively more scarce and more exclusive than those generally more expensive, now "common as muck" VWs, Audis, BMWs and Mercs and the like.
At the other end of the scale are several models that ooze rarity – and, in turn, exclusivity – because only hundreds are sold annually. Some (from Alpine, Bentley and Maserati) are pricey; others (Alfas and Subarus) are not.
And for those dare-to-be-different motorists after an affordable(ish) new car with the rarest of badges, think newcomer Genesis. Just 127 were sold here in 2021. Currently, these things are so scarce they make Porsches (13,702 UK sales last year) look common.
Check out the best selling cars in the UK here...